Buying an oven will be one of your biggest kitchen purchases; it's worth getting clued up on all the different types by reading our oven reviews and getting to grips with our buying guide. It's the kind of appliance that you don't want anything going wrong with as it will be both tricky and expensive to fix. Make sure you know exactly what you are getting yourself into when you make your decisions and always be clear on warranty periods. To help you navigate the world of oven buying, we'll be covering fuel, function and design.
Best Fan & Convection Ovens
Oh the power of hot air! Fan, fan-assisted, or convection work by circulating hot air around, making for a more efficient cooking environment. Rather than just relying on the walls heating up and radiating heat around, convection setups actually propel hot air around the food. Convection ovens are usually energy-efficient and are easier for home cooks because you won't have to bother with moving food around inside and you'll get a more even bake. Fan or convection ovens can either be solely fan ovens, or they can be multi functional ovens that have a fan function. Convection ovens can be fuelled by either electricity or gas, but electricity is increasingly becoming the norm. Read our reviews of some of the best fan & convection ovens.
 Our Best Fan/Convection Oven Pick
Zanussi ZOD35802X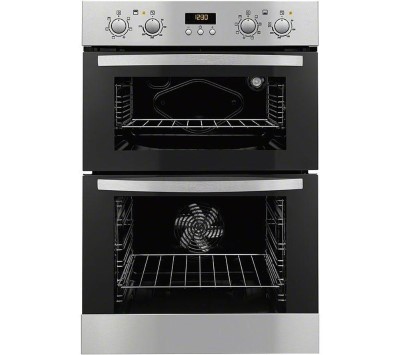 Multifunctional Italian integrated double unit with versatility and style.
Going for a double convection is a great way to maximise kitchen space. This Zanussi number gives you over a 100 litres of space (can't argue with that). Great double with plenty of cooking space and a smart timing programme that turns itself off, so you don't have to worry about burning the house down!
This Zanussi number gives you over a 100 litres of space (can't argue with that). Great double with plenty of cooking space and a smart timing programme that turns itself off, so you don't have to worry about burning the house down!
Great double with plenty of cooking space and a smart timing programme that turns itself off, so you don't have to worry about burning the house down!
Our Verdict: One of the best currently on the market, fantastic build quality and value for money.
Zanussi ZOD35802XK Rating: 10/10
Hoover HPRECM7
This oven and hob combination is perfect for busy family homes. Boasting an LED clock, programmable timer and seven different useful functions including a defrost setting and a pizza function, this multifunction oven makes cooking easy.
Cleaning the Hoover HPRECM7 couldn't be easier, with easy clean enamel surfaces and a steam cleaning system you'll never have to spend hours soaking and chipping grease off this appliance.
For the price, this is easily one of the best ovens on the market.
Our Verdict: The perfect choice for those who want their cooking experience simplified.
Hoover HPRECM7 Rating: 9/10
Beko EcoSmart BRIF22300X
This Beko oven has a large capacity at 71 litres, perfect for when you have guests and need to feed a large group of people. Better still it's in Beko's EcoSmart range, meaning that it will save you money by reducing energy consumption whilst not compromising on cooking quality.
Designed to fit within an eye level cabinet and with a handy LED display, this is one of the most stylish and appealing options on the market for the price, which also includes a 2 year manufacturer's warranty for your peace of mind.
Our Verdict: This large capacity oven is perfect for big families or having guests over, being in the EcoSmart range means reduced energy consumption which in turn will lead to savings over time.
Beko EcoSmart BRIF22300X Rating: 8/10
Belling BI70FP 60cm
Built-in double fan from quality British kitchen brand
This Belling double convection is of a medium size for a double and has got loads of great features you'd expect from a Belling. There are a few little niggles on the usability side that are dragging the score down ever so slightly, but it's still great for the price from a market-leading brand.
Our Verdict: Good for the price from a well known brand. Some usability issues but overall a great budget buy.
Belling BI70FP Rating: 8/10
Hoover HCGF304/6WPP
Modern black single convection
Another great Hoover offering, this one's slick black colour makes for a stylish addition to your family kitchen. A modern setup for a modern kitchen.
There's a few little niggles with this when in use, but this is still a stylish family model at a good price point.
Our Verdict: Build quality could be better as it does have some flaws. Higher quality alternatives are available for around the same price.
HCGF304/6WPP Rating: 7.5/10
Fan ovens are great for energy efficiency as they circulate hot air around, cutting down on cooking time. If you fancy checking out more, head over to our gas oven reviews to fan your flames.
We hope you got some useful info for your next fan or convection oven purchase. Still not sure? Go check out our electric ovens reviews for some more great reviews.
Best Double Ovens
Buying a double oven means having twice the fun in your kitchen. They are brilliant for bigger family kitchens and will be appreciated by ambitious home cooks who need some space to perfect their Sunday roast. Having one of these means you can easily have multiple dishes on the go – grilling on the top, whilst roasting other food on the bottom. Some twin ovens also offer double grills if grilling is really your thing. Here are our favourite double ovens that would be great for any family kitchen.
Name
Image
Brand
Oven Type
Dimensions (in cm)
Cavity size (litres)
Price range
Energy rating
Best features
Rating
Price
Buy Now
BOSCH HBM13B150B
Bosch
Double Fan-Assisted Electric
88.8 x 59.5 x 55.0 cm (H x W x D)
71 + 35 L
Mid High
A
- even & fast cooking
- quality engineering
5
££
Neff Classic Collection 2 U15M52N3GB Built In Double Oven
Neff
Double Electric
88.8 x 59.4 x 55.0 cm (H x W x D)
66 L + 35 L
Mid
A and B
- CeramiClean lining
- durability
4.8
£££
Indesit DDD5340CIX Electric Double Oven
Indesit
Double Electric
88.7 x 59.7 x 57.5 cm (H x W x D)
71 L + 39 L
Super low
A
- 7 cooking functions
- programmable digital timer
4.7
££
AEG NC4013021M
AEG
Electric
71.5 x 59.4 x 54.8 cm(H x W x D)
46 L + 40 L
Mid
A
- anti fingerprint finish
- catalytic cleaning system
9
£££
Beko BDVC667W 60cm Double Oven Electric
Beko
Double Electric
90 x 60 x 60 cm (H x W x D)
65 L + 35 L
Low
A and B
- ceramic hobs
3.9
££
 Our Top Pick Double Oven
BOSCH HBM13B150B
Quality German engineering for your kitchen
We love the fact that it gets the job done fast and doesn't make too much of a fuss in the process, heating things up quickly but quietly. This German Bosch is a brilliant addition to any British kitchen.
You know you are getting a good oven when you go for a Bosch, and this is no exception.
Our Verdict: A great quality buy, this is a nifty double fan setup that is both smart and efficient.
BOSCH HBM13B150B Rating: 10/10
Neff Classic Collection 2 U15M52N3GB
Classic stainless steel double electric oven with 2-year warranty
There are no flashy bells and whistles here, just solid quality that has been known to go the distance and last for over a decade. Shame about the B energy efficiency rating in the second cavity, but it's still a great choice as it's hard to find kitchen appliances that go the distance like this one can.
A classic, you can't go wrong with this Neff Classic Collection.
Our Verdict: This is a quality and durable kitchen appliance, built to last with all the features that you'd want.
Neff Classic Collection 2 U15M52N3GB Rating: 9.5/10
Indesit DDD5340CIX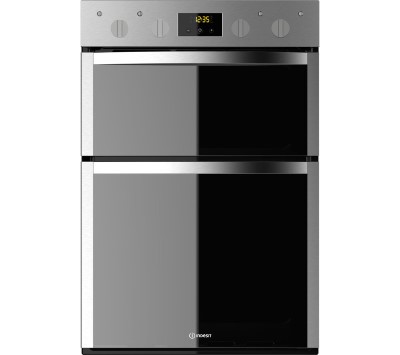 Budget fan and convection double oven with large internal capacity
This Indesit model has some great functions and it's nice to see a double oven where both of the cavities have been given A ratings for energy efficiency. We love that you can get a built-in double electric setup with seven cooking functions priced this near the £300 mark.
Seven cooking functions and a generous internal capacity make this a great mid-weight product for a budget price.
Our Verdict: This Indesit is a real budget buy. Fantastic quality for the price, this will not disappoint.
Indesit DDD5340CIX Rating: 9.3/10
AEG NC4013021M
We love this electric double oven from AEG. With its sleek design and anti-fingerprint coating, this model is perfect for busy kitchens or those who need more than just a single oven. The two separate cavities mean that different foods can be cooked at the same time and allows for catering for larger families or dinner parties.
The catalytic cleaning feature makes cleaning this oven quick and easy, with the grease and fat being absorbed by liners and oxidising, so no need to spend hours scrubbing the grease off this oven.
Our Verdict:  Perfect for bigger families who need the extra space of 2 ovens.
AEG NC4013021M Rating: 9/10
Beko BDVC667W 60cm
Quality electric double oven for people who don't care about flashy design
This oven and hob combo might not be the prettiest one in the world, but it does what it says on the tin. With a good energy efficiency rating and a nice ceramic hob, you can't go far wrong for this price.
Our Verdict: Shame that Beko haven't done more with the design, but it's still a great family choice.
Beko BDVC667W Rating: 7.5/10
Hope you enjoyed these double oven reviews. If you think these might be a bit too big for your kitchen needs, check out our reviews on electric ovens instead.
Best Built-In & Wall Ovens
Built-in ovens are fantastically versatile cookers and are becoming increasingly popular with style-conscious cooks. Built-in ovens are great because they can seamlessly sit within your kitchen units, blending in with your overall kitchen design. There are many different built-in options: wall ovens sit at eye-level, often in custom-designed kitchen cabinets, whereas built-under ovens are made to fit under kitchen worktops. Having a wall oven at eye-level can make it a lot easier to use, but some people still prefer a traditional built-in setup that sits beneath a worktop. Read our reviews and see what kind of oven takes your fancy.
Name
Brand
Oven Type
Dimensions (in cm)
Cavity size (litres)
Price
Energy rating
Best features
Buy Now
Smeg SFP9395X Classic
Smeg
Multifunction Electric
59.5x 89.6 x 54.5cm (H x W x D)
77 L
££££
A
- 50 automatic cooking programmes
- pizza oven
-Fingerprint friendly stainless steel
Whirlpool Absolute AKZ6230NB
Whirpool
Single Electric
59.5 x 59.5 x 56.4 cm (H x W x D)
65 L
££
A+
-A + energy rating
- 30 automatic cooking programmes
Samsung Dual Cook NV75K5571RS
Samsung
Single Multifunctional
59.5 x 59.5 x 56.6 cm (H x W x D)
75 L
£££
A
Smeg Cucina DUSF44X
Smeg
Double Fan-Assisted Electric
71.7 x 59.7 x 53.8 cm (H x W x D)
70 L + 41 L
£££
A
-double grill
-contemporary stainless steel oven design
Stoves SEB700FPS
Stoves
Double Fan-Assisted Electric
70.3 x 59.5 x 55 cm (H x W x D)
50 L + 35 L
££
A and B
- reasonable price
Our Top Built-In Oven Pick
Smeg SFP9395X
Quality Smeg oven with innovative features (and yes, it has a pizza oven too)
Oh, Smeg. Putting others to shame with your features, functions and flashy design. This Smeg oven is the latest in luxury design and usability. Packed to the brim with loads of amazing features and functions, this actually has an integrated pizza stone moulding so that you can make your own pizzas and flatbreads. Magical.
Our Verdict: What other ovens can do pizza too? More than just a gimmicky luxury oven with fancy features, this is a feat of real solid kitchen design and engineering.
Smeg SFP9395X Rating: 10/10
Whirlpool Absolute AKZ6230NB
This black Whirlpool makes a change from the sea of white enamel and stainless steel. With great cooking programmes and a soft close door mechanism, this is a brilliant family choice at a competitive price point.
We love the brilliant array of programmes that make your life easier. Extra brownie points for the A+ energy efficiency rating.
Our Verdict: Energy efficient electric oven with a slick black design.
Whirlpool Absolute AKZ6230NB Rating: 10/10
Samsung Dual Cook NV75K5571RS
Combination oven that allows for precise temperature control
This single combination oven doubles up as a double thanks to its unique dual cook feature. You can actually use the main cavity at different temperatures at the same time, simplifying everything. We love how this Samsung uses the latest technology to give you a solid and practical setup that delivers on quality and usability.
Our Verdict: Brilliant functions and clever use of technology makes this a winner for us.
Samsung Dual Cook NV75K5571RS Rating: 10/10
Smeg Cucina DUSF44X
Another stylish Smeg setup: stainless steel double oven
We love the smooth curves and its clear mirror finish. This stylish Smeg setup is definitely made for the houseproud cook. We're pretty sure it would light up any kitchen as either a wall oven or a worktop one. Plus points for the big internal capacity and the Smeg Circulaire fan cooking feature that makes for evenly cooked food using less energy and time.
Our Verdict: This gleaming double oven delivers on size and quality of the cooking. A really great choice for a busy family kitchen, this looks and is good.
Smeg Cucina DUSF44X Rating: 9.5/10
Stoves SEB700FPS
Double oven manufactured in the UK that goes the distance
Coming from a quality UK brand, this is an environmentally friendlier purchase as it hasn't had to travel far before it lands in your kitchen. A bit smaller than some of the other doubles we've featured, it's still a good choice and Stoves cookers tend to last a long time too.
A quality integrated oven, this Stoves would fit in nicely in any family kitchen.
Our Verdict: A quality integrated setup, this Stoves would fit in nicely in any family kitchen.
Stoves SEB700FPS Rating: 9/10
Integrated wall ovens certainly make a stylish first impression and allow you to play around with your kitchen design a bit more.
Best Gas Ovens
Gas ovens are great – we all love the nostalgia of striking that match and the warm cozy smell of a gas model on full pelt on a cold winter's morning. Cooking with gas is very important to some people and gas is often used by professional chefs who tend to cook on gas ranges. Though electric alterantives have been taking over recently, many still feel that gas is better. Gas oven technology has come on in leaps and bounds in the last few years and new gas cookers are very tightly regulated and controlled. It's much easier these days to get an even temperature with gas as designers continue to innovate and improve on earlier cookers.
Name
Image
Brand
Dimensions (in cm)
Cavity size (litres)
Price
Energy rating
Best features
Buy Now
Smeg SF6341GVX
Smeg
59.2 x 59.7x 54.8 cm (H x W x D)
60 L
££
A
-triple glazing
- lit glass fascia
- great cooking functions including rotisserie
Stoves SGB600PS
Stoves
58.5 x 59.5 x 55 cm (H x W x D)
48 L
££
A
- fully removable shelves
- quiet when in use
Baumatic BO610.5SS
Baumatic
59.4 x 59.4 x 53.5 cm (H x W x D)
50 L
££
A
- 2 year warranty
Indesit I5GGW Gas
Indesit
60 x 50 x 90 cm (H x W x D)
65 L
£
A
- budget buy
Our Best Pick Gas Oven
Smeg SF6341GVX
High quality gas oven that doesn't skimp on style
This gas offering not only looks amazing, it's packed full of extra features like telescopic shelves, triple glazing and an extra deep tray. Another great quality setup from Smeg, this gas oven delivers on style and substance.
Our Verdict: We certainly took a shine to this shiny Smeg gas setup. We love the rotisserie cooking function and the smart glass panels that light up –  a great kitchen appliance investment.
Smeg SF6341GVX Rating: 10/10
Stoves SGB600PS
Single gas oven meets electric grill
This stylish number from Stoves combines the quality of a gas oven with the precision of an electric grill. This is a great for smaller families or couples who aren't looking to cook huge joints of meat.
We love the simple stainless steel design and minute timer that keeps us on track when we get distracted watching Great British Bake Off!
Our Verdict: A lovely small setup with a powerful electric grill, this Stoves is a great family kitchen appliance.
Stoves SGB600PS Rating: 9/10
Baumatic BO610.5SS 60cm
Good capacity, solid single gas oven
Slightly less polished than some of the others we've reviewed, this still delivers on usability and durability and it has a more generous internal capacity than the two Stoves gas offerings we've looked at.
Our Verdict: A good 2-year warranty period and generous internal capacity makes this a great gas setup buy from Baumatic.
Baumatic BO610.5SS Rating: 7/10
Indesit I5GGW White 50cm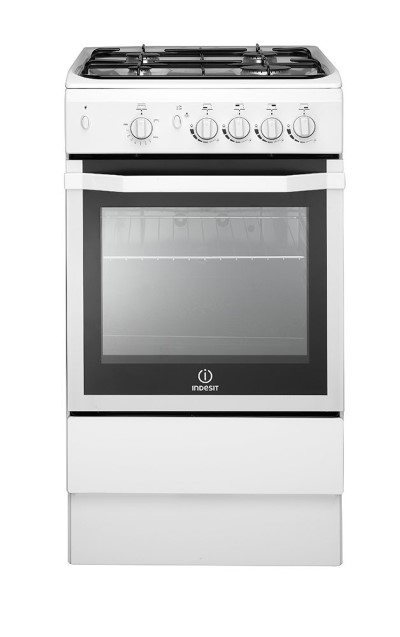 Cheap and cheerful Indesit gas oven
This is a super simple gas oven and hob that will help you get set up for the first time in your kitchen. Nothing quite beats the feeling of cooking with gas, and this is a great kitchen appliance starter. You get what you pay for, and it doesn't have any of the fancy features, but it's a good gas model nonetheless.
Our Verdict: Cheap and cheerful, does what it says on the tin. A great budget buy.
Indesit I5GGW Rating: 7.5/10
We hope you enjoyed these great gas oven reviews. If you don't think gas is right for you, check out some of our electric oven reviews instead.
Best Electric Ovens
Some people say gas hobs are better, but electric ovens are starting to take over as Britain's domestic ovens of choice. Easy to maintain and install with more even cooking temperatures, we can see why. Electric options are versatile and safe, and can be programmed to work in a number of different ways. It's their wide array of functions like combi grill, rotisserie and various settings that make electric ovens so user-friendly and give you that nice even bake. Electric setups can ever so slightly bump up your utility bill, so always go for an energy efficient model if you can (A rated or better).
Name
Image
Brand
Oven Type
Dimensions (in cm)
Cavity size (litres)
Energy rating
Best features
Price
Buy Now
Miele H6260BP PureLine
Miele
Integrated Fan-Assisted Electric
59.5 x 56 x 55cm (H x W x D)
76 L
A +
- Pyrolytic enamel interior for easy clean - lit glass fascia - electronic controls
££££
Hotpoint SI4854CIX
Hotpoint
Multifunction Double Electric
59.5 x 59.5 x 56.4 cm (H x W x D)
71 L
A +
- A + energy rating - generous oven capacity - tilting grill
££
BOSCH HBN331E3B
Bosch
Single Fan-Assisted Electric
56 x 56.8 x 57.5 cm (H x W x D)
66 L
A
- 3D Hot Air function - 2 year guarantee
£££
Hotpoint Class 4 SA4844PIX
Hotpoint
Electric
59.5 x 59.5 x 55.1 cm (H x W x D)
71 L
A+
- programmable timer
- pyrolytic cleaning system
£££
Logik LBFANX14
Logic
Single Fan-Assisted Electric
59.5 x 59.5 x 57.5 cm (H x W x D)
65 L
A
- budget buy
£
Our Best Electric Oven Pick
Miele H6260BP PureLine
Luxury oven with nine cooking functions for the discerning home cook
This is on a different plane altogether. Integrated, stylish design and nine different cooking functions make this a considered choice from a highly-respected appliance brand.
Cooking with this is truly a pleasure and Miele's commitment to quality means that it's not only supremely stylish but durable too.
Our Verdict: Once you go Miele PureLine, you don't go back. The specs speak for themselves.
Miele H6260BP PureLine Rating: 10/10
Hotpoint SI4854CIX
Great capacity multifunction oven with an A+ energy rating
Another solid offering from Hotpoint. A fantastic find, this Hotpoint combines an attractive price with excellent capacity, functionality, and a stellar A+ energy rating.
Going for a cheap doesn't mean scrimping on anything here: you'll be able to make all your family favorites in this generous-sized setup.
Our Verdict: Energy-efficient A+ rated double oven, perfect for larger families.
Hotpoint SI4854CIX Rating: 9/10
Bosch HBN331E3B
Fuss-free family oven with good safety features
Bosch is a trusted appliance brand, and we can see why. Every time Bosch come out with something, you can definitely feel their commitment to solid design and quality. In this, they've really kept to a streamlined and fuss-free silhouette, with pared-down and useful functions.
Our Verdict: You can combine this with the Bosch electric induction hob pack for the full Bosch kitchen range. Great for growing families, this Bosch is safe and easy to use.
Bosch HBN331E3B Rating: 9/10
Hotpoint Class 4 SA4844PIX
From the Jamie Oliver Hotpoint partnership comes this built in electric single oven, ideal for cooking all of your favourite meals with minimal effort. This model sports a programmable timer which can be set to automatically shut off the oven when the food is ready, meaning no more burnt chips or dried out chicken, while the pyrolytic self-cleaning setting reduces leftover food and grease to ash, allowing you to simply wipe it away without the need for harsh chemicals or endless scrubbing.
Click Here for Best Price
Our Verdict: An excellent and well priced choice for those who enjoy cooking a wide range of meals.
Hotpoint Class 4 SA4844PIX Rating: 9.5/10
Logik LBFANX14
Super budget buy – cheap electric oven from Logik
This is for the budget-conscious chef who doesn't want to spend too much on a kitchen appliance at this stage. It's cheap and cheerful; you won't be getting any additional cooking functions, but it's a reliable budget buy you can't go too wrong with.
Our Verdict: Not the most beautiful, this Logik is a good first buy for a young couple who aren't looking for anything special and just want to get their kitchen kitted out fast.
Logik LBFANX14 Rating: 8/10
Electric ovens are great, but some people still prefer gas. Think you might need a gas oven instead? Check out our gas oven reviews here for some great gas cookers.
Best Budget & Cheap Ovens
Cheap ovens these days are easy to come by, whether you are looking for gas or electric. Buying a good oven on a budget doesn't mean a huge trade-off in quality if you know what you're looking for. Sure — when buying cheap you will have to balance size with quality and style, but it's totally possible to get a fully functioning setup and a good deal at the same time. To really drive your price down, you'll need to trade in ceramic hobs and stainless steel doors in for more humble design. We've gathered some great cheap options for the money-conscious cook.  We cover electric, mini, and we've even included a budget-buy oven for those who are looking to make a big saving with their kitchen appliances this winter.
Name
Brand
Oven Type
Dimensions (in cm)
Cavity size (litres)
Price range
Energy rating
Best features
Rating
Swan SX1011W
Swan
Single Conventional Electric
90 x 50 x 60 cm (H x W x D)
60 L
£
A
- low price
- adjustable height
5
New World NW601FP
New World
Single Fan-Assisted Electric
58.5 x 59.5 x 55 cm (H x W x D)
61 L
£
A
-cooking programmes
-fun oven colours
5
Candy ACOM609XM
Candy
Single Fan-Assisted Electric
59.5 x 59.5 x 56.7 cm (H x W x D)
65 L
£
A
-low price
-easy clean enamel
-large capacity
8.5
HOTPOINT UHS53XS
Hotpoint
Electric Fan-Assisted Double Oven
88 x 59.7 x 578 cm (H x W x D)
59 L + 37L
£
B
-stainless steel design
4.3
Delonghi E12012W
Delonghi
Mini Electric
41 x 51 x 30.5 cm (H x W x D)
12 L
£
-
- super lightweight
3.9
Our Best Budget Oven Buy
Swan SX1011W
Cheap & cheerful basic electric model that won't break the bank
This Swan number really is a budget must-have. We love how it fits the classic silhouette and doesn't mess about with any unnecessary extra features.
Simple, clean and classic, this Swan electric model hits all the right budget buttons. Cheap and reliable, this electric oven with four hobs is an absolute kitchen essential that graces many family and student homes up and down the country.
Click Here for Best Price
Our Verdict: A fantastic all-rounder, this is cheap and cheerful design at its best.
Swan SX1011W Rating: 10/10
New World NW601FP Electric
British-made electric oven that comes in fun shades
It's always nice to support homegrown manufacturing, and with a great little electric setup like this, it's not exactly hard. We love that this comes in fun colours that will brighten up any kitchen. It also gets brownie points for including some cooking programmes that we usually see on more expensive cookers.
This is a great because its low price tag includes a multitude of useful features that make family cooking easier. We love the effort that's gone into the design of this (you can get it in red too).
Our Verdict: A great all rounder with a whole load of features that simply should not be present at this price, a great buy.
New World NW601FP Rating: 10/10
Candy ACOM609XM
An excellent budget option for any kitchen, the Candy ACOM609XM multifunction oven is perfect for preparing a range of dishes. We love the sleek look of this stainless steel oven and the touch controls give it a modern and futuristic feel whilst still being easy to use.
The grease proof enamel coating means that this appliance is easy to clean and won't require hours of endless scrubbing.
Our Verdict: Excellent value for money, an easy to use budget option for any home.
Candy ACOM609XM Rating: 8.5/10
HOTPOINT Class 2 DD2544CIX
Stylish & affordable stainless steel electric double oven
We love this stylish stainless steel design that is a bit of a steal. A built-under double setup like this offers great value for money when trying to pack as much as you can into a small kitchen space.
The top compartment is reserved for smaller dishes and grilling, while the bottom of this double is perfect for roasting joints or larger oven dishes.
Our Verdict: Great for everyday cooking, this is a good double oven that lets itself down with its lower energy efficiency rating.
HOTPOINT DD2544CIX Rating: 8.5/10
Best (super) budget buy for kitchen first-timers
Delonghi E12012W
This mini oven is a great cheap appliance for students or kitchen newbies. A portable electric oven like this is a really brilliant piece of kitchen kit because you can simply place it on any safe surface, plug it in, and you're off. This won't last forever and you won't be able to make huge roasts in it, but it's a great little starter.
Our Verdict: A brilliant piece of budget kit, you will probably outgrow this mini oven quite quickly and have to move on to something bigger.
Delonghi E12012W Rating: 7.8/10
Not sure whether you want to go for the cheap model after all? Check out some of our other oven reviews to see whether there's another oven model out there that is better suited for your needs.
Buyer's Guide
Oven Buying Guide
Buying an oven will be one of your biggest kitchen purchases; it's best to get clued up on all the different types by reading our reviews and getting to grips with our buying guide. It's the kind of appliance that you don't want anything going wrong with as it will be both tricky and expensive to fix. Make sure you know exactly what you are getting yourself into when you make your decisions and always be clear on warranty periods. To help you navigate the world of buying, we'll be covering fuel, function and design.
Different Types Of Oven
Ovens are separated out into many subcategories that you may find confusing at first. The main categories you need to know are fuel and function, followed by design and dimensions.
Initially, you will have to make a choice between an oven that is fuelled by electricity or fuelled by gas.
Then you will have to make some decisions on what cooking functions you'd like best, and what sort of oven design will fit in with your existing kitchen design (built-in or standalone).
You will also have to consider how much space you have to devote to your oven, and how you will manage the installation process. Often you'll need professional and qualified engineers to do the fitting – it's not something you should be attempting on your own without any professional assistance.
Gas vs. electric ovens
A gas oven is fuelled by gas, whereas an electric oven will be plugged into your main electricity supply
Gas ovens and hobs are often seen as a more 'authentic' way of cooking, but electric ovens are increasingly the norm as they offer a more consistent temperature
With gas, you may struggle to get a completely even cooking temperature inside, though gas ranges and hobs are favoured by the country's top chefs as the best
Gas ovens are slightly cheaper to run than electric ovens
Electric ovens may be conventional electric ovens, or fan assisted ones. Fan assisted ones are usually preferable, as they keep energy costs and preheating times down
Both electric and gas ovens will have different cooking functions like grill, fan, etc.
Oven Functions
Different types offer different cooking functions. The oven type is the general category of oven, like conventional electric or fan-assisted electric. These types will then be broken down into functions like fan-assisted grill, electric grill, fan oven, fan-assisted gas oven, etc.
A function determines how the oven heats up and will influence your cooking results. Most setups offer a number of functions, with fan ovens and grills becoming increasingly standard. The benefit of fan-assisted cooking is a more economical way of cooking and a more even bake.
A combination oven has many different types of functions, like fan, electric grill, microwave etc. A combination oven may have the edge over a single function oven as it allows you to be more versatile. Most standard ovens these days come with a variety of oven functions, but only ones that offer microwaves are generally called combination ovens. This can be a great option, but you might have to trade off some oven power. Read our microwave and combination oven reviews here.
Different Oven Designs: Built In VS. Stand Alone
A built in oven means that you can integrate your oven with the rest of you kitchen design, either fitting it under a worktop or at sitting it in a special eye-level cabinet. It depends really what you think looks best in your kitchen, but fitting an oven in an eye-level cabinet means that you will need to set your hob on a separate part of the kitchen worktop.
A standalone model is also a good option as it will make for less work during installation and is a popular choice in managed properties as it offers an easy 'all in one' solution. An oven range is pretty much always standalone, as it's such a big bit of kitchen kit.
Designs also vary in terms of colour and design. A classic white enamel oven is joined by black, stainless steel and even mirrored glass ovens. It's possible to have coloured and quirky ovens too, with red and cream being popular appliance colour choices.
Luxery VS. Basic
Luxury ovens come with an impressive array of features like pre-programmable cooking programmes, self-cleaning pyrolytic lining and even integrated pizza and flatbread features. A luxury oven from one of the best brands will look a lot more high end and will be finished off to a higher standard. More expensive choices are made from better materials and have longer warranty periods.
On the other hand, a basic oven is often good enough for standard kitchens and cooking, and you may not need all the bells and whistles that a fancy one offers. A budget oven can be a good purchase, but make sure you read lots of reviews before making a purchase decision. (Here are our reviews of cheap ovens).
Replacing an appliance is time-consuming and expensive, so it's often best to aim for mid range ovens and cookers, and to sign up for any warranty periods. You don't want anything going wrong with your appliance, as it will be a huge hassle to fix.
Single VS. Double
A single oven has one cavity, whereas a double oven will have two. Often double ovens have a main cavity that will roughly be the same size as a standard single oven, with a smaller oven sitting on top that will double up as grill.
A double is best if you're planning on doing lots of complex cooking, or prefer a bit more space for your family meals. Often shared houses will have double setups.
Energy Effeciency And A Rated Ovens
Being more efficient with the energy you use is better for the environment, and best of all better for your purse strings. All cookers are rated on a universal EU energy efficiency scale, with  A+++ being the highest energy efficiency standard. An energy scale like this makes it easy for you to tell at a glance how energy efficient your appliance is.
The Energy Saving Trust recommends that you look for A rated ovens as a "new A+ rated electric oven will consume 40 percent less energy than a B rated one".  Read more about energy efficient appliances on Energy Saving Trust's website.
How To Choose The Right Oven
Deciding on what is best for you depends on your kitchen objectives and habits. Some people review ovens from a very functional perspective, others need a little more from their cookers in terms of design and brand.
Consider the following when purchasing:
What's your budget like? Don't forget to factor in insurance and installation. Remember that scrimping now may not pay off in the long run
Do you need a double or single?
Have you measured your oven cavity?  What dimensions are you going to need? (Not all ovens are the same size)
Do you know how much oven space you actually need? (Remember, oven cavities are always measured in litres)
What sort of features and programmes are you likely to need on a regular basis? Does it make sense to pay extra for them?
How important is quality and design to you? What about the brand?
Do you need any extra safety features?
Have you read enough reviews to make your decision?
Compare oven ranges at different retailers – you'll be surprised at the differences in pricing.
Kitchen Appliance Buying Best Tips
Here are our best tips for buying a kitchen appliance:
Plan carefully before you make your appliance purchase by reading appliance reviews on different websites
Beware of financing plans, they may be more costly in the long run as you'll have to pay interest
Shop around and don't commit too soon – there may be a better model out there
Make sure you are clear on what your priorities are in terms of safety, usability, price and design
Look for a competitive warranty package
Utilise combination deals for ovens and hobs wherever you can
Don't get blinded by a fancy brand, dig deeper and look at product specification and reviews to get a real picture of the best appliance for you.
Oven Care & Installation
Most ovens need to be installed by a professional and licensed engineer. You are dealing with complex parts of your home like the main gas or electricity supply and you really don't want to mess either of those things up.
If you don't follow correct installation procedures, your insurance won't be valid
A wrongly installed oven is highly dangerous
We've collated a lot of the manuals in our reviews so you can get the best out of your purchase, but don't attempt to install your oven on your own
Ovens can be some of the dirtiest and hardest to clean appliances in our kitchens. Left to their own devices, they quickly become caked in dirt and grime. It's important to stay on top of cleaning to best extend the lifetime and value of your appliance. You will want to have frequent mini cleans, as well as deep cleans and scrubs. You won't always need to resort to harsh chemical cleaners either, there are plenty of natural ways to remove grime and grease. Check out these best cleaning tips.
Oven Buying FAQS
What's the difference between an oven and a cooker?
These words are sometimes used interchangeably, but technically cookers would include the top hotplate known as the hob. An oven is strictly speaking just the oven cavity used for cooking.
What is a built-in oven?
A built-in oven is one that can be fitted under a kitchen surface, or integrated into an existing wall design as part of a custom cabinet. Sometimes built-ins are known as wall ovens because they sit in the wall.
Is gas better than electric?
Not necessarily, but gas hobs are sometimes preferred because they provide a faster and potentially more 'authentic' cooking experience. This is because you can easily control the flames on the hob. A gas setup may actually be slightly more unreliable than an electric one.
Are all ovens a standard size?
No, they come in many shapes and sizes and vary based on the brand and design. Dimensions are usually given in centimetres, with an internal capacity given in litres. The best ways to get a feel for an oven is to know your current oven's size and compare that, or go and see some models in a showroom.
Where are ovens manufactured?
They're manufactured all over the world, with some brands assembling parts overseas. There are some brands that manufacture in the UK, like Stoves and Belling. Companies like Zanussi, Smeg and Indesit are based in Italy, whereas AEG and Miele are German.
Which ovens do chefs use?
Chefs use huge ranges in commercial kitchens. These are often custom built. They tend to combine gas tops with electric ovens to combine speed with even cooking.
Which ovens are best for baking?
Baking benefits from an even temperature to encourage an even bake. An electric fan setup is probably the easiest and best for bakers to get to grips with. Gas setups are good because gas lets off some moisture, but again you might struggle to get a consistent temperature.
Who services and installs ovens?
It depends whether it's an electric or gas oven, but generally it will either be a gas engineer or an electrical engineer. Often when you buy your oven, you will be given details on who to call for installation. Alternatively, you can find someone online. Make sure that you use someone reputable and certified, as an installation gone wrong will be extremely costly.
When will ovens go on sale?
In store
New models are released in September and October so older cookers get discounted at that time of year to make space for new shiny cookers. There are also usually some of the best deals to be had around January. If someone has a monthly sales quota, you might get a better deal at the end of the month. Weekends can be bad if you're going to buy in store as they will be busy and rushed.
Online
You are more likely to find the best online deals all year round, as online selling tends to be a little less seasonal. It's still probably worth shopping in late Autumn and early winter though if you're looking for good deals on older cookers. Use online review websites and money saving websites to help you compare big brand cookers.
Why are ovens so expensive?
Getting one that works well and is safe to use is a feat of engineering. You are paying for the materials, but also the design and testing of prototypes. Simple enamel ovens and cookers will be cheaper than nice stainless steel or coloured ones.
Why do ovens stop working?
Ovens malfunction due to a number of different reasons. It could be that they malfunction due to poor installation, wear and tear, or inappropriate use. Most can last up to 15 years in use, but cheaper and newer cookers will need replacing faster. It's very important to take care of ovens and keep them clean to lengthen their shelf life.