You've finally got your A-Level results, after months spent narrowing down exactly what it is you want to do with your life, applying to universities, attending university interviews and writing a personal statement.
Then comes the preparing for the big move (or adapting if you'e staying at home), and ensuring you have everything you need as soon as lectures and work starts. But it isn't all hard work – you need to have a bit of fun too.
Don't forget that there are loads of offers and free things out there for students, too. From making use of the TOTUM Card (NUS Extra with wheels on for those who aren't clued up), to other benefits such as Student Bank Accounts with freebies, there are deals to be had.
Our favourite is the Six Month Free Trial of Amazon Prime Student you can make the most of. Unlimited One-Day Delivery on millions of eligible items, Instant streaming of movies and TV shows with Prime Video and Unlimited reading on any device are just some of the benefits, and it'll all help you fill any spare time.
After the trial, it is just £3.99 per month or £39 for the year. The Next Day delivery will be a lifesaver in exam season when you need to order extra books or pens, and to be honest, the television shows are worth it alone. Let The Office US accompany your university experience.
Now you know where you're going, you need to start planning what to take. You're bound to forget something, so to ensure you are well prepared, check our list on the essentials you need to take to university.
Study
Laptop
Ultimately, this is going to be one of the most important appliances you will use at university. From taking notes in lectures to writing essays and uploading it to Turnitin, it is where the work gets done. You may even have to do some group projects on the Cloud or plenty of research.
But it isn't all work. You will probably also want to have some downtime, whether it be watching videos, catching up on missed television or video calling family. So the ideal laptop needs to cope with a lot, while not costing you every penny.
Our Pick – Microsoft Surface Go 10″ 2-in-1 Laptop
Weighing just 0.6kg and ultra-slim, this laptop will be easy to take to the library, to a local cafe or for a study session across campus. The touchscreen functionality makes it so easy to use, especially if you like to doodle notes over your work for visual aid, and 64GB flash storage gives you plenty of space to save all the essentials.
See our picks of the other best laptops.
Printer
If you have any big projects to print off which will be marked, using the university library printer is a good idea as the quality will be high. But for any other bits, such as proofreading or getting your lecturer to check over your work in draft mode, having your own printer is a great idea.
Not only will it ensure you don't have to top up your printer credit allowance, but it also gives immediate results, so you don't have to queue and get stuck behind someone who uses all of the ink.
Our Pick – HP Deskjet 2622 All-in-One Printer
This allows you to print, copy and scan, and also print from a variety of smartphones and tablets or even the Cloud. HP Instant Ink ability can ensure your printer orders ink when it has used 70%, so you will never run out or forget to order it manually. Oh, and it is wireless, so there's no cables required.
We have reviewed some other printers here.
Relax
Speaker
Need music in the background when you're working? Having a small smart speaker in your room is ideal. Not only can you get streaming services, radio stations or audiobooks through it with a vocal command, but you could also ask it questions if you're stuck writing an essay or practice exam paper. Or, get Alexa to tell you a joke to lighten the mood.
Our Pick – Echo Dot (3rd Gen)
The classic smart speaker, and a bestseller. The compatibility with other apps and services is high, sound is clear and it'll look pretty good in your room too.
See our other smart speaker picks.
Or maybe you want to be the person in charge of music at pre-drinks, so want to invest in the best speaker to ensure everyone comes to your kitchen? You'll need booming sound, good battery life but also the ability to carry it around and take it back home next summer.
Our Pick – Ultimate Ears BOOM 2 Bluetooth Speaker
A 360 degree wireless speaker, sound is loud and high quality with deep, powerful bass in every direction – everywhere you go. The perfect party accessory, and you'll barely even spot it as it is smaller than you'd think.
Here are some other speakers which are worth consideration, too.
TV
Some of you will be fine with a laptop screen, but if you are a fan of your catch-up TV or film night gatherings, a television in your room will give the best picture and sound. You want something affordable, but with the latest tech too.
Look out for features such as Smart TV ability so you can watch Netflix, or an HDMI port to attach your Streaming device.
Our Pick – Toshiba 32LL3A63DB 32-Inch Smart Full-HD LED TV
Full HD picture. Smart enabled. Freeview Play if you want to pay the Licence Fee and grab yourself an indoor aerial for live telly. The perfect way to watch all your favourite shows and box sets.
Some other budget yet fab TV's are here.
Kitchenware
TIP: First of all – always check what is provided before you go!
Whether you are moving into halls or a houseshare, essentials such as toasters and kettles are usually there already. Even if they aren't, there's a good chance that someone will already be bringing one, and the last thing you want is for everyone to turn up with a microwave.
If so, come to some arrangement over whether you can share, and if not you can organise for everyone to chip in and get a basic one which will do you for the year.
Other items which may come in handy for your use are…
Smoothie Maker
Unfortunately, the lime segment in your Desperado does not count as one of your five a day. Thankfully though, smoothies are a great way to stay healthy at university. A dedicated maker is ideal as they have personal bottles, so you can carry it to lectures with you, or even whizz up a protein shake for the post-gym walk back to your flat.
Our Pick – Breville Blend Active Personal Blender
The most popular personal blender on the market by far, and we loved it in our review. A great price, two free bottles and good enough blades to cut through ice cubes and fresh fruit. You'll be taking smoothies everywhere.
Slow Cooker
It isn't just for the parents out there. The possibilities are actually endless with slow cookers. From soups to casseroles and even desserts such as banana bread, you can leave it to tick over while you fit in a library session or attend a long lecture, and dinner is ready when you return.
Our Pick – Morphy Richards Oval Slow Cooker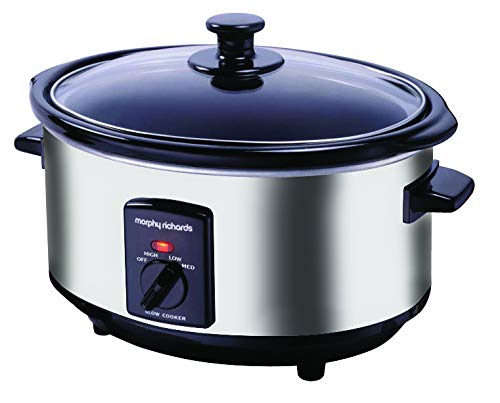 A great price, enough room to do a meal and still have leftovers, and simple to control. It is also suitable for use alongside that slow cooker recipe book which your nan bought you in preparation.
If you want to spend a bit more on a fancier slow cooker with extra features, there are some great ones in our slow cooker review guide.
Plates and Cutlery
TIP: Take a few of absolutely everything – you'll thank us later!
Don't spend a fortune on these – you'll be amazed at how many forks go missing, or how many dishes break when you're washing them up. But it is a good idea to take a few of everything, including saucepans. If something goes missing, or you can't be bothered to wash up last night's plates before dinner, having spares will be a lifesaver.
Need to start completely from fresh and want the whole lot? This Argos Home 50 Piece Non-Stick Kitchen Starter Set is great value for what you get, from corkscrews to knives and a comprehensive set of pans and bakeware.
Bedroom
Digital Alarm Clock
You will have a 9 am lecture at some point in your university life. You may even have a Saturday job or placement where punctuality is essential. Phone alarms are good, but it is too easy to press snooze.
An alarm clock can be placed far enough away, so you have to get out of bed to turn it off, but it will be loud enough to ensure that you don't sleep through it.
Our Pick – LENOVO Smart Clock with Google Assistant
If you're looking at getting a smart speaker as well, this will do both jobs. Get some motivational sayings to appear on the screen to give you that extra push, or have your favourite radio station wake you up.
Want something a bit more basic? Here is our roundup of some other alarm clocks worth making the move with you.
Desk Lamp
From working through the night to meet a deadline to creating a cosy atmosphere, a desk lamp can be both an essential and a finishing touch to your bedroom.
Our Pick – Lloytron L961BK Flexi Desk Lamp
Under £10, available in a few colours and easy to turn on and off. Well up to the task of helping you through those university deadlines and when the bulb blows, it is simple to replace.
Check our reviews if you want something a bit fancier or more energy-efficient.
Decorations
Whether it be pictures or your dog/cat/hamster/goldfish, friends from home or even empty strings/frames ready for new memories, photos are a great way to make your room yours. When you're at university and away from home, it is also a great way to display your life.
You may also want to take blankets, cushions or fake flowers, or a large tapestry to cover the unsightly breezeblock wall/brown corkboard you spotted in the pictures.
TIP: Have a single bed in your room? Buy a double duvet – it will be cosier and keep you warmer in Winter, especially if you're a fidgety sleeper
Make your room your own – it isn't only where you will enjoy your relaxing downtime, but also part of the experience you can really make your own decor-wise.