We have done the hard work for you. Here is a highlight of some of the best retro style appliances to include in your home this year.
There's been an increasing interest in intertwining retro appliances with a modern home theme. The types of styles range from the colourful 1950's look to the 1980's style appliances that are available. Plus, the internet is aflood with decor ideas and Pinterest-worthy tips.
Our team have handpicked some of the best retro style pieces to add to your home taking into account the elegance, practicality and price.
Must-Have Retro Appliances For Your Kitchen
Keep food fashionably frozen…
1. SWAN SR11010CN 70/30 Fridge Freezer
First, we couldn't resist this 50's style fridge freezer and it's not the only one that caught our attention. There seems to be a new trend of classic refrigerators with a simple yet stylish display. This one has the old handle, the top brand and it comes in striking colours.
The SWAN SR11010CN has a 70:30 fridge to freezer ratio – surprisingly spacious. It has a 168 litre capacity in the fridge compartment with 40 litres in the freezer. This retro fridge is available in 5 colours (pastel blue, cream, black, green & red) and comes with a gloss finish meaning its easy to clean. The Swan range is much more affordable than other brands on the market and is a perfect addition to any retro kitchen.
Cook in style…
2. Smeg TR4110 Dual Fuel Range Cooker
SMEG tends to be a brand that flies the flag for retro designs. They often showcase timeless classics and put their own spin on some traditional appliances. Best known for their old school fridges, they also have a range cooker collection. And they look very swich indeed.
Although their stand-out colour is cream, it does come in other colours too. Why not add a pop of pastel blue to your dining area? The powerful dual cooker is more than just a novelty; it is a trusty cooker that many chefs would be proud of.  It comes with two fan ovens, a timer, enamel coating and a 7-burner gas hob.
Retro can be cool too…
3. Gorenje ORB153 Freestanding Fridge
If you liked the look of the first retro fridge that we discussed but you require a tad more room, then you are going to love this one. This is another old-style fridge that comes in both simple and bright colours. For something different, get the blue refrigerator with a simple look and a handle on the front.
There is even a little compartment in the top which can be used as a freezer if you want to store some ice lollies or just the cubes for your summer drinks. This appliance will be sure to lighten up your kitchen design and there's lots of products available to match with it.
Mix up your decor a bit…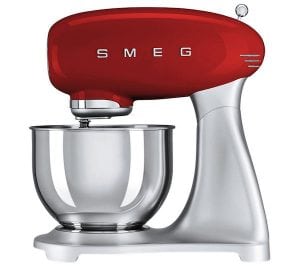 4. SMEG SMF01RDUK 50's Retro Stand Mixer
If you are an avid baker or cook, then a stand mixer can be your best friend in the kitchen. Power often gives way to looks for appliances which tick all the design boxes, but this one jumps the trend.
It will help you out and get those batters and mixes smooth and fluffy without you getting annoyed at it. Once it is all done, it is going to look just fabulous on your worktop, too. No wonder it has glowing 5* reviews across the board…
The retro look is hot…
5. RUSSELL HOBBS Retro Vintage N21672 Jug Kettle
The retro design isn't just for the big show off appliances. You can even boil your water in a retro appliance. And this particular kettle from Russell Hobbs is a real winner, as it looks very different to any other on the market.
It even has little additions to add to the 'traditional' style – a temperature monitor, a fancy handle and the wider shape at the bottom. Yet, it has all the modern touches we can't live without as well, such as rapid boil, a high capacity and a Perfect Pour water spout. Class and functionality? Sign us up.