While slimline dishwashers may not have the same load capacity as full-sized machines, you will be surprised by how many dishes you can fit into such a small machine. Smaller families, couples, and those with limited space will find these space-saving dishwashers convenient. So, how do you navigate through which is the best slimline machine for you?
Like anything, choosing the correct small dishwasher can be a challenging task as many of them have multiple features and you can easily become lost in the details. With the proliferation of various models and makes, selection boils down to features, space, and technical specifications, as explained in the following dishwasher buying guide.
Who Is a Slimline Dishwasher Best For?
A slimline dishwasher is great if you:
Live in a one-bedroom flat
Have a studio flat
Small mobile home
Tiny house
Narrowboats
Cosy country cabin
Holiday residence
Any location where space is an issue.
How Do I Find the Best Slimline Dishwasher?
Standard dishwashers are 60cm in width, whereas slimline ones measure 45cm. Slimline dishwashers are smaller in size, which means that the capacity isn't as large. However, users will discover that they hold many plates and glasses.
Most models accommodate nine to ten place settings (one dinner plate, dessert/side plate, glass, soup bowl, saucer, teacup, and five utensils). A full-sized machine can do 14 place settings.
The average water consumption is nine litres compared to some, which do only six litres per cycle. By using half-load features, eco programmes, and delayed start, you may be able to save even more on water.
Features
While most people are drawn to the external features, the internal ones matter the most. Budget slimline models generally use a basket to store cutlery. While convenient, it reduces space for pans and pots. It also decreases the amount of space between items, meaning there is not enough space for water to wash them properly.
The best type to get is one with a slide-out cutlery tray to save on space, and the cutlery is washed better.
Being able to adjust the upper rack is beneficial as it will allow more space should you need to wash larger items.
Anti-flood protection prevents your kitchen from flooding if something malfunctions. Float switches located inside the system can detect water at the base of the dishwasher and stop it from filling. The aqua stop will prevent flooding should the hose filling the unit leak or split.
This sensor measures how dirty the dishes are. Then, it adjusts the length of the wash cycle and temperature accordingly.
Integrated or Freestanding Models: Which is Best?
The benefit of a freestanding model is that you can install it at any location. All you need is a good space with an electrical outlet, a cold water outlet for hot and cold for twin inlets, and a drainage pipe.
Integrated models fit perfectly and flatly with existing kitchen units. While they look smart in the space, they are permanent, so if you move, you may end up leaving the appliance behind. The timer is hidden from view, so you cannot check it unless the door is open.
Most people want a machine that is energy efficient. It cuts down on the cost of their energy bills, is more efficient, and is better for the environment. It is also less wasteful. When comparing machines, energy labels are a wise place to begin.
A to D ratings accompanied by up to three plus signs are now gone, and they use an A to G scale. A rating of A is the highest energy-efficient dishwasher available.
Not only does an energy rating show how efficiently the appliance runs, but it also indicates the amount of energy and water it uses for every wash, the capacity in place settings, and the time it takes to complete a wash.
Additionally, noise levels have an A-D rating, including a loudness measurement in decibels, which is ideal if you live in a flat and don't want to annoy your neighbors.
The Best Slimline Dishwashers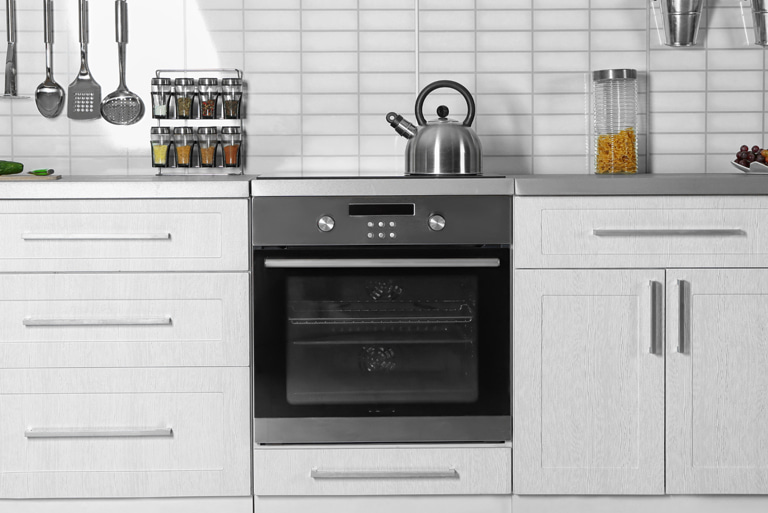 When selecting the proper slimline dishwasher, first consider the measurements. You don't only want it to fit width and lengthwise, but depth as well. If you live in a flat, side-by-side, townhouse, or anywhere you share a wall, you will want a quiet machine.
This whirlpool dishwasher is freestanding and provides spotless dishes in 30 minutes. Users can run a half load if necessary, and there is a delay timer. It cleans up to ten place settings, has six wash programs, and receives an A+ for energy efficiency.
Positives
59 x 45 x 85 cm
3 cubic feet of capacity
Consumes 11.5 gallons of water/hour
Noise level is 49 dB
Freestanding machine
Negatives
No child safety lock
Legs cannot be lowered, but they can be removed to decrease the height
This dishwasher comes equipped with a turbo speed function that quickens wash cycles, adding 50% more time to your day in delivering clean dishes. Its Silent-Tech feature means that it is very quiet at 44dB, making it ideal for open-concept houses and flats.
The soil-sensing auto wash detects soil levels automatically and selects cleaning functions, providing users with a superior clean. By using the correct amount of water and electricity, it can save money and reduce waste.
HI-TEMP intensive wash cleans the most soiled dishes effortlessly. It also rids them of bacteria and has a glass care setting that cleans your fine glasses perfectly by using a lower temperature with softer water.
In a hurry? The 30-minute quick wash only takes half an hour to complete a cycle.
Auto-Open Drying provides perfectly dried dishes- even plastic. The dishwasher automatically opens, providing a small gap to allow for fresh air to circulate. It acts as the perfect reminder the cycle is finishing, allows moisture to escape, and eliminates unpleasant odours from accumulating inside the dishwasher. The dishwasher is kept more hygienic.
The digital display shows remaining time, settings, and progress with simple icons. The exterior is stainless steel which makes it durable and easy to clean.
It comes with a flexible rack system with foldable flip tines, movable cup shelves, and a cutlery basket that can be removed.
Positives
Size is 60 x 4.8 x 84.5 cm
Capacity is ten place settings
Uses 67 kW/100 cycles
Noise level is 44dB
Freestanding unit
Negatives
Cutlery basket
Lower energy rating (energy class D)
The Hoover dishwasher can hold ten place settings comfortably. It has seven programmes that users can select from, and you can delay cycles for up to 23 hours. It has an adjustable upper basket to load items that require more space or are taller.
Positives
Dimensions are: 58 x 45 x 85 cm
Capacity for 10 place settings
Noise level is 49 dB
Freestanding unit
Negatives
75 kW/100 cycles
Buttons hard to push
This Bosch slimline dishwasher can do up to nine place settings. It offers Home Connect, which connects the appliance to your smartphone to make life more convenient. The extra dry feature helps with loads that are difficult to dry by using higher temperatures during rinse and longer drying cycles. The top basket is height adjustable and offers extra room for tall dishes.
Auto Programmes select the best cleaning performance according to the soil level and the load of your dirty dishes, and it treats glasses gently with the Glass Protection feature. The EcoSilence Drive is an advanced motor to provide great efficiency, performance, and durability while generating a low noise level.
ActiveWater rinses dishes efficiently by targeted water distribution, faster heating, higher pump performance, and optimized filters. This improves water circulation. This slimline model also has dual spray arms: one on top and the other on the bottom for a superior clean.
Plus, it has a 10-Year Rust-Through Promise from the inner unit outside.
Positives
Dimensions: 60 x 45 x 84.5 cm
Capacity is 9.5 litres
Noise level is 48 dB
Home Connect app
Leak protection system
Self-cleaning filter
Negatives
Energy consumption is 78 kW per 100 cycles
Dishes may need to be rinsed before loading
The Miele was designed to last and tested to 20 years of use. The QuickPowerWash feature does a full load cycle in under an hour. It has essential programmes including a short feature to reduce time by 30%.
This quiet machine has an automatic wash.
Positives
Dimensions are: 57 x 44.8 x 80.5
Seven place setting capacity
Capacity is six litres
Uses 266 kW/annually
Noise level is 46dB
Freestanding machine
Slide-out cutlery tray
The best slimline dishwashers integrate many of the features mentioned above. While they may not be the best in terms of energy efficiency, there are some benefits to having a dishwasher that is so tiny.
If you live in a flat or have a small space, a slimline dishwasher makes sense. You can have a freestanding one, which is the most common and can be located and used anywhere. Integrated and semi-integrated models are wonderful as they can be discreetly stored, but due to their set-up, if you plan on moving, you may have to leave it behind.
The second most important feature is the noise level. If you live in a flat or are in any dwelling where you share a wall with a neighbour, you may want to invest in something low on noise. While there are varying degrees of noise levels on the machines, most of them are quiet.
Even if you have a small kitchen or tiny home, the noise level can be important. Perhaps you work late and don't want to wake up family members. Maybe you like doing dishes overnight so that there are fresh ones in the morning. Then, having a quiet dishwasher is practical.
The features, however, of most of these dishwashers are phenomenal! In terms of cleaning power- especially if you have children- you may want to invest in one with a dual spray arm. Since not all children rinse off dishes properly, this will save you the frustration of continually issuing a reminder and will help clean the dishes properly.
Always be sure to take accurate measurements before making a purchase. Height and width are great, but you will need to be sure the depth is correct as well. Otherwise, your dishwasher may stick out a bit or collide with another cupboard.
The rest is completely up to personal preference!