Royal Wedding fever well and truly hit Britain on the 19th May 2018, with all those preparations having resulted in a truly beautiful day.
Prince Harry and Meghan Markle had asked pastry chef Claire Ptak to make an organic lemon and elderflower cake for their nuptials. It was another way in which the couple strayed away from traditions – no other Royal Wedding has not served a traditional fruit cake to guests.
Claire, who owns the Violet Bakery in Hackney, East London, incorporated typical Spring flavours into the cake, as well as decorating it with traditional buttercream and fresh flowers. Meghan previously ran her own lifestyle blog and had interviewed Ms Ptak for a feature.
Although the official recipe for the Royal couple has being kept a well-guarded secret, you can easily produce your own variation at home. Perhaps you have been inspired to make your own wedding cake, or loved the royal nuptials so much that you'd like to celebrate the upcoming birth of the couple's first child.
Whether you want to recreate the cake of the day or stick to traditions, we have the perfect recipe for you. If you are wanting to go all out and want to treat yourself to a new stand mixer as well, you can have a browse at our latest reviews here.
PIMM'S LEMON LAYER CAKE
Lemon cakes are amongst the easiest sweet treats to make, and this one can be ready in under an hour. It also combines lemons with one of the great traditional tastes of British Summer. Serves 12.
You will need:
500g unsalted butter, divided into two and softened

250g self-raising flour

250g granulated sugar

1 tsp baking powder

4 large eggs

A handful of mint, finely chopped

80ml Pimm's

Zest and juice of 3 lemons

500g icing sugar

Crystallised flowers, to decorate
Method:
Preheat oven to 180°C. Butter and line two 8" round cake tins.

Beat half of the butter with the sugar, flour, baking powder, eggs, mint and lemon juice until you have a smooth batter. Add the Pimm's slowly while stirring.

Divide the mixture between the two tins and bake for about 25-30 minutes until golden brown. A skewer should come out clean when inserted into the middle of the cake.

To make the icing, beat the rest of the butter with the icing sugar and zest until fluffy. Use some in between the two cakes to create layers and frost with the remainder.

Use the flowers and a few extra sprigs of mint to decorate, for your very own Royal Wedding touch.
ELDERFLOWER AND LIME DRIZZLE CAKE LOAF
Elderflower doesn't just work with lemon in recipes. You can create this fresh, summery cake in little time, and the addition of Greek yoghurt makes it light and moist. Serves 8.
You will need:
100g unsalted butter, softened

100g granulated sugar

50g full-fat Greek yoghurt

3 large eggs

175g flour

1 tsp baking powder

100ml elderflower cordial

125g icing sugar

Zest and juice of two limes

Elderflowers, to decorate
Method:
Preheat the oven to 180°C. Grease and line a standard loaf tin.

Beat the butter and granulated sugar together until creamy. Whisk in the yoghurt and eggs.

Stir in the flour and baking powder, and then pour in 75ml of the cordial and the juice and zest of one of the limes as you combine.

Bake for 30-35 minutes until golden. Meanwhile, combine the icing sugar with the remaining cordial and lime juice/zest to create icing.

When the cake is cooled, drizzle over the icing and sprinkle with elderflowers to decorate.
TRADITIONAL BRITISH FRUIT TEA CAKE
This Yorkshire fruit tea cake is the perfect way to pay homage to the traditional Royal Wedding recipe. It requires a bit of planning but will be so worth it. Serves 10.
You will need: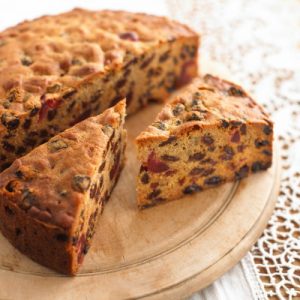 500g mixed dried fruit

300ml cold black tea

150g butter, softened

150g granulated sugar

225g plain flour

3 large eggs

1 tsp baking powder

Zest and juice of one lemon and one orange

200g glace cherries, halved
Method:
The day before, place the fruit in a large bowl and soak in the tea overnight.

Preheat the oven to 180°C. Grease an 8" cake tin with butter and line.

Cream the butter and sugar together until light. Beat in the eggs, lemon/orange juice and zest, baking powder and flour at regular intervals until combined.

Drain the soaked fruit and add to the mixture with the cherries. Stir gently.

Spoon the mixture into the cake tin and bake for around two hours until a dark, golden colour.