The Great Celebrity Bake Off is part of the bigger series, The Great British Bake Off. The Celebrity series takes on a special goal in that it is geared to support Stand Up 2 Cancer. But even with celebrities, the recipes are great. When you sit down to watch an episode of the Great Celebrity Bake Off, it is not just about the competition. The food looks tasty and often inspires us to want to try some of these great-looking recipes. You don't have to be a well-practiced baker to do this. If you can follow a recipe then you can go step by step to make the best ever recipes that have been made on the show. You can make delicious desserts at home by trying out these great tastes.
These are called financiers because of their shape. They are designed to like gold bars. This recipe makes 12 and is easy to create in under an hour.
200g – Unsalted butter
60 g – pieces of walnut
60g – almonds ground
240g – caster sugar
80g – plain flour
5 – egg whites – large
100g – unsalted butter – room temperature
¼ tsp – salt
¼ tsp – white vinegar
½ tsp – vanilla paste
1 ½ tsp – expresso instant coffee powder
250g – sifted icing sugar
2 tbsp – double cream
Gold edible powder
Steps
Preheat oven to 230°C – 210° fan – Gas 8
Brown butter – melt butter over medium heat and increase heat to a gentle boil until butter is golden brown. You want a ring of browned butter on the edge of the pan. Remove from heat and put butter through a sieve that has been lined with kitchen paper. Don't scrape the pan.
Grind walnuts in a food processor and then add almonds, caster sugar, and flour to it and pulse so it is mixed.
Put the mix into a big bowl and put a well in the middle. Put egg whites in the well and whisk gently for 1 minute until smooth. Then whisk in warm brown butter until the batter is smooth and glossy. Put the mixture in a jug and divide it into 12 molds.
Bake for 5 minutes then turn down the temperature to 200°C – 180°C – Gas 6 for another 10 minutes. Once risen, skewer til clean. Remove and cool then move to the wire
Carmel – put sugar into a heavy pan and heat to dissolve sugar. You can swirl sugar but not stir. When it turns deep caramel then pour onto a silicone mat and let it harden.
Buttercream – Mix butter, salt, vinegar, vanilla and espresso to a bowl and beat on medium speed with a stand mixer.
Add ½ of the icing sugar and ½ the cream. Beat on low speed for 3 minutes until exceptionally smooth. Add the rest of the icing sugar and cream then beat for another 3 minutes.
Break the cooled and set caramel into small portions.
When cool, pipe the icing across the top and then top with caramel and gold powder.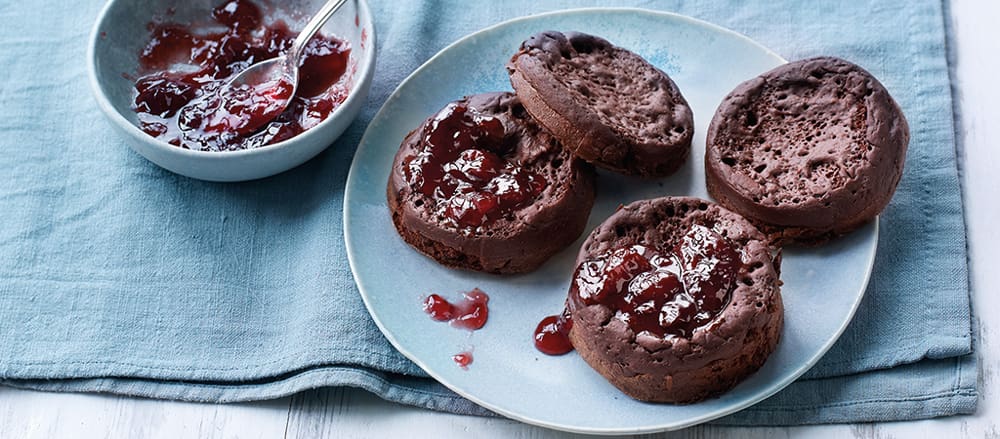 A great classic best served warm. It serves 6 and is easy to make in under an hour.
75g – plain flour
75g – strong white flour
25g – cocoa powder
7g – fast-action dried yeast
½ tsp – caster sugar
175ml – whole milk warm
75ml – warm water
¼ tsp – bicarbonate of soda
1 tsp – salt
Cherry Jam
200g – black cherries, defrosted
100g – jam sugar
½ tbsp – lemon juice
Cinnamon stick
Butter
1. Put the flours, cocoa, and yeast in a bowl then mix. Stir sugar into warm milk until it is dissolved and pour onto the flour mixture. Using a wood spoon, beat it for 3-4 minutes until the batter is smooth.
2. Cover and let stand for 30 minutes.
3. Jam – put cherries in a pan and crush them. Add sugar, lemon juice, and cinnamon stick. Boil over low heat until sugar is dissolved. Raise heat and boil for 4 minutes. Remove from heat and pour in a shallow container. Cool and set.
4. When the batter is set them mix water in a jug with soda and salt. Stir into the batter and add another 2-3 tablespoons of warm water. Mix until thick so it is droppable similar to double cream. Cover and let stand for 20 minutes.
5. Heat a griddle pan over med-low heat and lightly grease it. Put 3 crumpet rings on it. Put batter into the rings until halfway up. After 4-5 minutes look for bubbles and the surface will be set. Turn them over and cook for another 3 minutes.
6. Take off a griddle and keep warm. Do this with the rest of the batter and then put on butter and cherry jam.
Finding the Best Recipes
These are only two of the best recipes from The Best Ever Great Celebrity Bake off but there are others that are right up there with these ones when it comes to baking ease and great taste. There are ones that range from easy to difficult but if you follow a step-by-step recipe then they should turn out well. The key to having these recipes work is to make sure you understand the baking terminology and following the recipe properly as well. Whisk, stir, and fold all mean different things, so it's important to understand the explanations within the recipe so you can match the outcome. Doing this means you will be able to create and have delicious desserts at home no matter what your baking skill level. You don't have to be a celebrity or a professional baker to get the delicious baking outcome you want.