In the market for a new washing machine? Choosing a washing machine can feel frankly bewildering – they all come with a huge range of functions and features – and how are we ever supposed to work them all out? Should you get a big drum or a small one? A freestanding one or an integrated one? Bosch or Hotpoint? A+ or A+++? Let's find out.
Best Washing Machines – Our Pick
In a Hurry? Check out our Favourites
There's a wide array of different models on the market now, some with very clever features. What you get will depend on what you need, how many people it must cater for and what your budget is. We've collected 5 of our favourite machines as well as a buying guide to help you make an informed choice.
| Product | Image | Capacity | Spin Speed | Max. Noise Level | Energy Rating | Warranty | Price | Buy Now |
| --- | --- | --- | --- | --- | --- | --- | --- | --- |
| HOOVER DXA68W3 | | 8 kg | 1600 rpm | 79 dB | A+++ | 1 Year | £ | |
| Hotpoint Aqualtis AQ113F497E Washing Machine | | 11 kg | 1400 rpm | 77 dB | A+++ | 1 Year | ££ | |
| Beko WMI71641 | | 7 kg | 1600 rpm | 72 dB | A+ | 2 Year | ££ | |
| Bosch Serie 8 WAW28560GB Washing Machine | | 9 kg | 1400 rpm | 71 dB | A+++ | 2 Year | ££ | |
| LG Centum FH6F9BDS2 Smart Washing Machine | | 12 kg | 1600 rpm | 71 dB | A+++ | 5 Year | ££££ | |
Best Overall Washing Machine
HOOVER DXA68W3 Washing Machine
If you don't have a budget big enough for one of the more expensive machines but don't want to compromise on quality and great features, this Hoover model could be the one for you.
Boasting an 8kg capacity drum, you will have no problems making sure your weekly wash is done quickly and efficiently, and with the unique KG mode, this machine calculates the size of your wash making sure that the right amount of water is used. No more worrying about it being a waste to put a small wash in!
There are 12 washing settings to ensure that no matter how dirty or delicate the wash there is a program to suit it, while the touch screen display shows all the information you need, including time remaining.
The Hoover DXA68W3 also boasts an impressive A+++ energy rating, perfect for if you want to reduce your energy and water use.
All these great features are available for under £300, making this the best budget option on the list.
Pros and Cons
We Liked:
Affordable price
A+++ Energy Rating
Lots of different settings
We Didn't Like:
Smaller drum that other models
Our Verdict: The perfect budget choice for anyone who doesn't want to pay over and above but also doesn't want to sacrifice features or quality.
HOOVER DXA68W3 Rating: 8.5/10
Specifications & Downloads
Specifications:
Capacity: 8 kg
Spin Speed: 1600 rpm
Noise Level: 79 dB
Energy Rating: A+++
Manufacturer's Warranty: 1 Year
HOOVER DXA68W3 user manual
Hotpoint Aqualtis AQ113F497E
If drum size is the main factor you need to consider when choosing for a big household, then this Hotpoint Aqualtis AQ113F497E is one of the best options out there. This large washing machine can hold up to 11 kg worth of clothes – that's an awful lot of trousers, shirts and undies! Overall, this makes it a more economical purchase, as you will need to do less washing compared to a smaller machine.
This has settings to suit all of your delicates, woollens, duvets and colours, and in addition it has an anti-allergy cycle that is ideal for those with allergies or sensitive skin. There is also a quick wash cycle that will clean up to 2kg of clothes in just 20 minutes, for those times when you're in a hurry.
We love the stylish, modern appearance and the fact that it's A+++ rated, which is good news for the environment and your utility bills. It has a powerful spin cycle which can be slightly noisy – not the ideal option for overnight perhaps – but the upside is that your washing comes out well-wrung and ready to be hung out or tumble dried.
Pros and Cons
We Liked:
Superb build quality
Looks great
Large load size
Hotpoint Aqualtis AQ113F497E
93 %
Our Verdict: A fantastic, high-capacity product for big and busy families
Hotpoint Aqualtis AQ113F497E Rating: 9.3/10
Specification & Downloads
Specifications:
Capacity: 11 kg
Spin Speed: 1400 rpm
Noise Level: 77 dB
Energy Rating: A+++
Manufacturer's Warranty: 1 year
Beko WMI71641
Perfect for average sized families, this 7kg capacity washer is integrated to blend seamlessly with any kitchen or utility room. This is great for those who have created their perfect room and don't want their appliances on show.
With an A+ energy rating and a quick wash 14 minute option, this machine won't add noticeably to your electricity bills and last minute laundry is easier than ever. Not only that but this machine has a half load option, meaning that you don't have to wait until you have a full load to save money. The drum itself has sensors which are effective in sensing how much washing you have loaded and adjusts water and energy usage accordingly.
Pros and Cons
We Liked:
Half load option
Sensors adjust energy and water usage
14 minute fast wash
We Didn't Like:
Not the nicest looking machine but as it is integrated this is not too much of an issue
A little louder than others on the market
Our Verdict: A washing machine that is economical on both price an energy. Perfect for the average sized family.
Beko WMI71641 Rating: 9.5/10
Specifications & Downloads
Specifications:
Capacity: 7 kg
Spin Speed: 1600 rpm
Noise Level: 72 dB
Energy Rating: A+
Manufacturer's Warranty: 2 Years
Beko WMI71641 user manual
Bosch Serie 8 WAW28560GB
This ultra-efficient offering from Bosch is one of the quietest models that we came across. With a maximum noise level of 71 dB (on spin cycle) it compares only to much more expensive models in terms of sound, so if you're looking for quiet and great value for money, this could be the best option for you. The Bosch Serie 8 WAW28560GB achieves this by using a brushless EcoSilence Drive motor (with a 10 year guarantee attached) to reduce sound and improve durability.
This is particularly efficient in that it will only ever use the exact level of water required for the amount of washing you put in – so there's less wastage. There is no 'half-load' option because with this in-built feature, it isn't needed. Another great selling point of is its Reload function, which lets you add or remove items once a cycle has begun. This is ideal for those times where you realise you dropped a sock on your way to the laundry room, or that you need those trousers to wear out later!
We love how many different useful functions this has, and how effective it is on stains while still managing to keep quiet. The only time it makes a noise is a cycle is completed – there is an alarm which can be a bit annoying, but it does stop you forgetting about it.
Pros and Cons
We Liked:
Very quiet
Good build quality
Great wash results
Large load capacity
We Didn't Like:
Can be complicated to use at first
Bosch Serie 8 WAW28560GB
95 %
Our Verdict: A super-silent, ultra-efficient offering for a quiet household
Bosch Serie 8 WAW28560GB Rating: 9.5/10
Specification & Downloads
Specifications:
Capacity: 9 kg
Spin Speed: 1400 rpm
Noise Level: 71 dB
Energy Rating: A+++
Manufacturer's Warranty: 2 Years
LG Centum FH6F9BDS2 Smart
On the lookout for something that truly does it all? If money is no object, then we think this is one you should consider. It's super-fast, incredibly efficient, impeccably quiet and intelligent. Using Wi-Fi connectivity, you can link it to your phone using the LG Smart ThinQ app, allowing you to start cycles from wherever you are and check up on any issues.
It comes with an extra-long 5 year warranty (and 20 year warranty on the motor) that offers peace of mind should anything go wrong. We love all the different features it has to offer, including an anti-allergy cycle to remove those pesky allergens and steam-only cycle for a quick refresh and crease removal. As with the Bosch Serie 8 WAW28560GB machine, this LG model only uses the exact amount of water that's needed, saving valuable resources and meaning you can just as easily do a small wash as a big one. And we mean big, because this can handle loads of up to 12kg. Quiet, powerful and well-built, this is ideal for a big household with diverse laundry needs, able to handle tough stains and frequent loads with ease.
Pros and Cons
We Liked:
Very large load capacity
Unbeatable build quality
Fantastic results
Super silent when in use
Our Verdict: A smart, luxury product with all the bells and whistles
LG Centum FH6F9BDS2 Rating: 10/10
Specification & Downloads
Specifications:
Capacity: 12 kg
Spin Speed: 1600 rpm
Noise Level: 71 dB
Energy Rating: A+++
Manufacturer's Warranty: 5 Years
Which is your favourite? Comment Below!
Best Portable Washing Machines
Make your life easier with the best in modern appliances – portable machines are for people who live life on the go. No plumbing required, all you need to do is plug these machines in and off you go. OK, so there is more to them than that – you will need to do a bit of draining and manoeuvring with some models, but they are still fantastic pieces of kit that can both wash and dry your washing.  Capacities for both vary from a just a few kilos to up to five kilos, but it's important to NEVER overload a mini washing machine. Whether you need a portable device for your caravan, your van, or just need a compact model at home – check out our portable model reviews. We cover a variety of sizes so that you can find the model that is best for you.
Name
Image
Functions
Washing Capacity
Drying Capacity
Best Features
Buy Now
Streetwize Twin Tub Portable Washer
washer & dryer
3.5 kg
2.5 kg
- copper bound motor
- ergonomic handle
- overall appliance quality



Good Ideas NEW XL Compact Twin Tub Washing Machine
washer & dryer
4.6 kg
3.5 kg
- quality & trusted brand
- great capacity
-automatic switch off



PORTABLE 230V MINI 3KG WASHING MACHINE
washer with spinning function
3 kg
1.5 kg
- super mini size makes this ultra portable



Indesit ISDP429 2800 Spin
dryer only
N/A
4 kg
- 10 year guarantee
- easy to use



Streetwize Twin Tub Portable Model
Loved by holidaymakers and homeowners for its versatility and quality. This model combines a compact top load washer with an equally useful top load dryer. We think this is the top portable with integrated dryer on the market today.
Yes, it's made of plastic, but it's still hardy and durable fitted with a high quality motor – it can even handle a double duvet cover. Easy to use and compact, this combo brings you the best of both worlds for a great budget price. Just make sure that you don't overload it!
A fantastic buy, this washing and drying combo is easy to use, safe, and will be the saviour of many a long summer holiday we imagine…
Pros and Cons
We Liked:
Top loading – easy to fill and empty
Don't overfill as it will be a very noisy spin otherwise
Small inlet hose – may need some help to make it fit around your tap
Ideal option for caravans, camping, motorhomes, houseboats, temporary accommodation
We Didn't Like:
Not a massive load capacity
Streetwize Twin Tub Portable Model
100 %
Our Verdict: A high quality top load wash & dryer set.
Streetwize Twin Tub Portable Model Rating: 10/10
Specification & Downloads
Specifications:
Wash capacity: 3.5 kg (double duvet cover is the biggest item it can take on its own)
Spinning capacity: 2.5 kg
Hardwearing and durable copper bound motor
Size: 72.5 x 62 x 38 cm (H x W x D)
Weighs 12.6 kilogrammes (easy to carry thanks to its ergonomic handle)
Good Ideas NEW XL Compact Twin Tub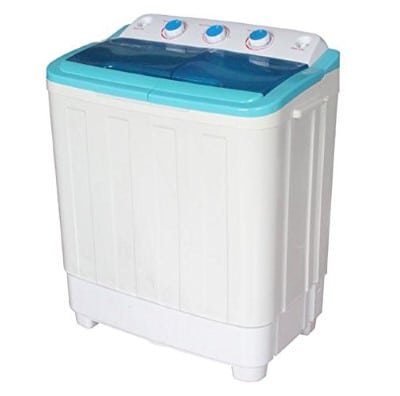 A great XL model from a popular and reliable compact brand, the regular sized model is often rated as one of the top machines on the market. As far as value for money goes, this is easily the top large portable available on the market.
This appliance has both great washing and drying capacities – the ideal solution for a family on holiday. We love that this portable has a gentle cycle for dedicates. Bonus points for the flexibility of being able to use the spin dryer at the same time as washing – such a time saver!
Good Ideas models are renowned for their quality and usability – this XL model is no different. A fantastic choice for people who need a little bit more from their portable appliance.
Pros and Cons
We Liked:
Pumps away waste water and has automatic switch off features
Great value for money
Don't overload these machines – the results won't be great if you do
Hoses are lightweight and seem a bit flimsy in comparison to the rest of the appliance
We Didn't Like:
Plastic design can be prone to wear if not used with care
Our Verdict: Good Ideas generous XL portable model.
Good Ideas NEW XL Rating: 9/10
Specification & Downloads
Specifications:
Wash capacity: 4.6 kg (can handle a king size duvet cover)
Spinning capacity: 3.5 kg
Pulse & reverse wash actions
Normal & gentle cycles available
Dimensions: 73 x 64.5 x 37 cm (H x W x D)
Weighs 12.75 kg
Portable 230V Mini 3KG
These tabletop machines offers an all-in-one washing and spinning solution. Smaller and less practical than the other models we've featured, this mini appliance is ideal for people who are very pushed for space, or haven't got a lot of money to invest right now. If it's space saving you're after, then this is the best mini washer dryer you can get.
As this only has one cavity, you will have to alternate between washing and drying and the spinning capacity is only 1.5 kg.
A great little mini appliance, this is a little model that can easily be packed and stowed away in a cupboard when not in use.
Pros and Cons
We Liked:
Weighs only 5 kg so this is ultra portable
Mini and compact, perfect for holidays & camping
Up to 15 minutes built-in timer
Great budget buy
Spin cycle has tendency to overheat
Spinner mode vibrates loads – be prepared for some bouncing!
We Didn't Like:
Some reviewers found this model was actually easier to fill with a bucket rather than use the pipe supplied
Our Verdict: Super compact with spinning function
Portable 230V Mini Rating: 8.8/10
Specification & Downloads
Specifications:
Has a wash & spin function – but as it's single tub, you will have to wait your turn
Washing capacity: up to 3 kg (dry – still pretty good)
Spinning capacity: 1.5 kg – smaller than other models
34 x 33.5 x 51 cm (H x W x D) (mini size, even fits on the draining board)
Indesit ISDP429 2800 Spin
Sometimes you just want a little extra drying help, whether you already have a portable device or not! This Indesit portable dryer is easy to use but the drying results are a bit patchy – you are better off not trying to overfill. Make sure you remember to put a dish or bowl in front of this dryer to catch all the water – this is not a self-draining model.
Although this isn't portable, we felt this one was worth a mention. From all the appliances in this category which we tested, the Indesit was by far the best portable dryer which will be a perfect addition to your travelling kit or eco-friendly home.
Pros and Cons
We Liked:
Top loading
10 year manufacturer guarantee
Very portable
Freestanding dryer, no plugging in required
We Didn't Like:
You need a dish or bowl in front to collect the run-off water
Drying quality can be a bit hit and miss with this dryer – works best when not over-full
Our Verdict: A Mini 4 kg dryer that's easy to use, does what it says on the tin.
Indesit ISDP429 Rating: 8.5/10
Specification & Downloads
Specifications:
4 kg spinning capacity
62 x 34.8 x 34.8 cm (H x W x D)
Getting a portable model  for the holidays? Need to get a larger one for the house too? Check out our washing machine reviews above.
Washing Machine Buying Guide
Capacity
Washing machine capacity refers to the size of the drum and determines how much washing your model can handle per load. Standard washing machines tend to fall within 5kg and 12kg of capacity as the max. load. Ideally, you want to aim for a washing machine with a drum that you're not going to struggle to fill up – otherwise you will have to wait longer between washes. So if you live in a household of just 2 people, it is unlikely you will need a huge 12kg machine to meet your laundry requirements. However, a big family or house of sharers would probably benefit from larger machines.
You should never cram a machine so it's completely full, otherwise your clothes will not be properly washed and your machine will struggle. For reference, 1kg of washing equates to approximately one outfit made up of trousers, top and underwear.
Spin speed
Most have a spin speed of between 1000 to 1600 rpm – that's revolutions per minute. So the higher the spin speed, the faster your clothes will spin. You can usually reduce the spin speed if you are cleaning delicate or woollen items. The spin cycle is designed to remove excess water so your clothes aren't sopping wet when you take them out, so a fast spin cycle will help to reduce drying time if you like to hang your washing out to dry. 1600 rpm is very powerful, great for heavy items like denim. For everyday laundry, a medium speed such as 1400 rpm is usually sufficient.
Noise level
Noise can be a real pain and should be a deal-breaker. It is usually the spin cycle that is the loudest, as your clothes are whipped round to remove excess liquid. Anything around 70-72 dB is on the quieter side for a spin cycle, and for a quiet wash cycle look for something that is 50 dB or under. Noise level is usually of more significance if you like to put your run loads overnight or when you're having some quiet time in the house. Check out our ultra-quiet recommendations above: the Bosch Serie 8 WAW28560GB and LG Centum FH6F9BDS2.
Energy rating
Choosing an energy-efficient washing machine is a good investment when it comes to save you money on your water and electricity bills. It's also better for the environment. The most highly rated energy-efficient washing machines are those that are A+++. Be sure to check the annual consumption guide of the washing machine that you choose to get an idea of how much it will cost to run.
Freestanding vs. integrated
Freestanding washing machines are what most of us would think of when asked to picture a washing machine. They are the most common type of washing machine and can be placed anywhere that connects to a drain and electricity supply. They offer a much wider range of capacity and come in various colours and styles.
An integrated washing machine is one that is designed to blend into your kitchen or laundry room by being built-in behind a cupboard door (usually). This means that the washing machine is not on display for the majority of the time, and it give the room a seamless look. They are often a little bit quieter due to being tucked away, but the installation costs are higher and there are fewer of them around, so choice is more limited.
Was this washing machine guide helpful? What features are most important to you when choosing a washing machine? Let us know your thoughts in the comments below.