Sound is a powerful thing. It can inspire, enhance and set the mood. The music we choose to listen to are highly personal to our tastes, as is the medium through which we hear them. If you're looking to enhance the sound quality of your music or get a premium surround-sound experience when watching films, then speakers are an excellent purchase decision.
However, one size does not fit all. A bit of a boost for your music streaming is one thing – a complete surround-sound system quite another. It is therefore very important to do your research beforehand, especially if you're going to be spending a lot of money. Whatever you want it for, there will be a perfect sound-system out there for you.
In a Hurry? Check out our Favourites
| Speakers | Image | Type | Colour | Accessories | Price | Connectivity | Rating | Buy Now |
| --- | --- | --- | --- | --- | --- | --- | --- | --- |
| SONOS PLAY:1 Wireless Smart Sound Multi-Room Speaker | | Wireless speaker | Black/white | Phone App | ££ | Wi-Fi, Ethernet port | 9.0/10 | |
| Bose Solo 5 Soundbar | | Soundbar | Black | Remote Control | ££ | Optical, Bluetooth | 8.5/10 | |
| Logitech Z506 5.1 PC Speakers | | Surround sound speakers | Black | Colour coded speaker cables | £ | Stereo inputs | 8.5/10 | |
| Bose Acoustimass 300 Wireless Subwoofer | | Subwoofer | Black | None | £££ | Bluetooth | 9.0/10 | |
| BOSE SoundTouch 20 III | | Wireless speaker | Black | Remote Control / Phone App | £££ | 3.5 mm jack input, Bluetooth | 9.0/10 | |
Best Speakers For Music Streaming
SONOS PLAY:1 Wireless Smart Sound Multi-Room Speaker
An award-winning wireless speaker ideal for music streaming
This super-compact and versatile multi-room speaker is a great choice for those who love listening to music throughout their home. Small enough to place almost anywhere – on a shelf, desk or worktop – it is very easy to set up and operate using the Sonos app on your phone. You can also add more devices over time with no fuss. Choose whether you want music to play in sync across the house, or rather something different in each room. Fully compatible with music streaming services and online radio stations including Spotify and iTunes, with this speaker you get complete control over your music with the touch of a button.
This speaker is wireless, which means you can play music via your Wi-Fi connection or plug straight into an Ethernet cable if you prefer. It's possible to build out the sound of your Sonos-system over time by adding a playbar, sub or both.
Pros and Cons
We Liked:
Easy setup
Great sounding
Great features on the app
We Didn't Like:
Expensive but the quality is exquisite
Our Verdict: We love the simple aesthetic of this small but powerful speaker and how easy it is to use.
SONOS PLAY:1 Rating: 9/10
Specification & Downloads
Specifications:
Type: Wireless
Colour: Black or white
Connectivity: Wi-Fi, Ethernet port
SONOS PLAY:1 product manual
Best TV Sound-bar
Bose Solo 5 Sound-bar
A versatile sound-bar to enhance your TV audio
A sound-bar is the ideal way to improve the quality of your favourite TV shows, games and music. What's more, with this Bose sound-bar that has Bluetooth built in, you can position it anywhere you want. It also comes with a handy universal remote that will do your sound-bar, TV, bass module, games consoles and other Bluetooth devices – keeping everything nice and simple. Who wants multiple different remotes to navigate every time you settle down to watch a movie?
Pros and Cons
We Liked:
Great sounding
Great aesthetic design
Super build quality
We Didn't Like:
Not compatiable with all TVs, check before buying
Bose Solo 5 Sound-bar
95 %
Our Verdict: This sound-bar from Bose is an ideal size to place on a shelf, is easy to use, excellent sounding and has a nice, sleek design that is unobtrusive. Before buying, check that it will be compatible with your TV, as it does not always work with older models. Our only gripe with this sound-bar is the lack of visual indication when changing the volume.
Bose Solo 5 Sound-bar Rating: 9.5/10
Specification & Downloads
Specifications:
Type: Sound-bar
Colour: Black
Accessories: Remote control, power cable, optical cable, coaxial cable
Connectivity: Optical, Bluetooth
Bose Solo 5 Sound-bar product manual
Best 5-Piece Speaker-System
Logitech Z506 5.1 PC Speaker
A powerful 5-piece speaker with subwoofer
With 5 separate speakers, including a subwoofer for bass, this surround-sound speaker-system is perfect for those who want top quality sound alongside their movies and gaming. It offers powerful sound for a very reasonable price, and will connect easily to your PC, DVD or Blu-ray player. For the money, you can expect a perfectly adequate, immersive experience that will really bring your home entertainment to life.
Pros and Cons
We Liked:
Easy to shift the around
Great surround-sound effect
High build quality
We Didn't Like:
Cables can be restrictive
Logitech Z506 5.1 PC Speakers
85 %
Our Verdict: These speakers are easy to connect and operate and can be conveniently connected with two devices simultaneously. If you like a really powerful bass, you can turn the bass up to max and really feel the sound. This is a great set to give yourself a decent home cinema experience on a modest budget.
Logitech Z506 5.1 PC Speakers Rating: 8.5/10
Specification & Downloads
Best Subwoofer
Bose Acoustimass 300 Wireless Subwoofer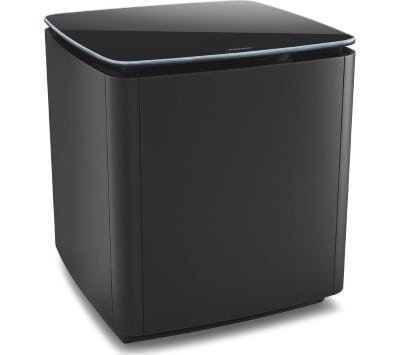 A dynamic lone subwoofer to enhance bass
On the slightly more expensive end of these appliances, this powerful Bose subwoofer is the perfect example of 'you get what you pay for'. Ideally paired with other items in the Bose 300 range, such as the Bose SoundTouch 300 sound-bar or wireless home cinema, this wireless subwoofer adds amazing deep bass for a fully rounded cinematic experience – perfect for movies, gaming and house parties.
We love the sleek black design and glass-top finish that you get with this subwoofer, as well as the fact that it automatically reduces distortion to give smooth, satisfying sound. Its simple design means that it's relatively unobtrusive in your home and will likely go perfectly well with your existing setup.
Pros and Cons
We Liked:
Easy connectivity
Fantastic quality
High build quality
Looks great
We Didn't Like:
Instructions are very minimal – Google will yeild more help if required.
Bose Acoustimass 300 Wireless Subwoofer
90 %
Our Verdict: A great purchase for those who want the full package.
Bose Acoustimass 300 Wireless Subwoofer Rating: 9/10
Specification & Downloads
Bose SoundTouch Wireless Multi-Room Speaker
Bose have been providing the ultimate listening experience for decades and they have now began to dominate the wireless speaker market. There's currently an emergence of wireless speakers that connect to Bluetooth and this is great because many of these gadgets can be played together.
You might be wondering what we mean, essentially this powerful and dynamic speaker can be the hub of your music or it can just be one of many. Add to your SoundTouch system and sync them together, you can connect all of them to one device and play through multiple rooms at once.
This Bluetooth Bose speaker possesses numerous technologies that allows all listeners to easily access over 20,000 radio stations and thousands of your favourite music via the likes of Spotify, Deezer and other platforms. There's no need for complicated add-ons or any serious installation, it's all setup and ready to go. If you want to move it, then why not pick it up and take it with you. We love this new age of speakers and it wouldn't be right if this brand didn't feature heavily in this niche, it's now easy to spend as much or as little as possible. Don't underestimate it due to its size and subtle sleek design, because the sound quality is immense and can be controlled from your smartphone or tablet.
Competing with the likes of Sonos it's now a hotly contested rivalry and one that we as consumers can enjoy. Bose have upped their game and if you'd like to stream music throughout your home then check this item out and why not add to it?
Pros and Cons
We Liked:
Streams through Deezer & Spotify
App on iTunes and Google Play
Can be connected to more speakers
Multi-room features
Can be used by IOS or Android users
Our Verdict: A good all rounder, though expensive, the quality is worth it.
Bose SoundTouch Rating: 9/10
Specifications & Downloads
Specifications:
Compatible with their Smart Sound music system
Wi-Fi & Bluetooth built in
5mm Jack
2 x USB ports
Weighs 3.2 kg
Bose SoundTouch user manual
Speakers Buying Guide
Power and frequency
The more powerful your device is, the higher volume it can reach without loss of quality. Most have a power rating, but it can be tricky to ascertain what kind will work best in a particular room based purely on this metric. As a ballpark guide for those who want a really decent speaker, aim for 25W and above and consider using an amplifier to improve the quality of the sound.
By contrast, frequency refers to sound range. Quality speakers will produce sound in the range of 20-20,000 Hz – the same range as the human ear.
Wireless connectivity
An option with wireless or Bluetooth connectivity can be a great option for those who enjoy listening to music and using music streaming services. Wireless-speakers can be connected with your devices – laptop, smartphone, tablet – and play seamless music at a much higher quality than you will be able to achieve with built-in device speakers. Being wireless, your device doesn't have to be physically tethered to the speaker, so you're free to carry it around as usual.
Speaker-docks
Speaker-docks are a speaker designed to work with a smartphone or MP3 player. You can simply mount your device onto the dock and it will amplify the sound through the speakers. If you buy a speaker-dock you must make sure it's compatible with the specific device that you have, as they are not all the same.
Location
Where you decide to place your speaker can impact the sound quality that you get. Variables such as room size and hard/soft furnishings will affect the acoustics, so this should be something that you think about before making your purchase.
If you have a small room, go for smaller models with minimal bass. If the room is large, consider bigger speakers and perhaps a sound-bar to maximise surround sound.
Bear in mind that soft furnishings will absorb sound, whereas hard furnishings disperse it and bounce it around. A room with lots of soft furnishings therefore needs more powerful speakers than one with a lot of hard furniture made from wood or metal.
Listening habits
How you plan on using your speakers will impact which type is the best option for you. Before buying, think about what you are going to use the speaker for, and plan accordingly. For those who simply want to listen to music with a better quality of sound, then one or two will likely be perfectly adequate. For extra oomph, an additional subwoofer may also be worth considering. If you want the full surround sound experience, then aim for a complete set including speakers, subwoofer and additional sound-bar.
What sort of speakers are you looking for and what experience do you want from them? Let us know your views in the comments below.