The hairdryer you use can be the difference between a frizzy mess of despair and beautifully sleek and styled tresses. Finding the right one for your specific hair-type can be difficult, especially with so many different models and brands to choose from. Many have different settings and fancy features that can make picking the right one confusing. But don't be blown away because we are here to help.
We have all been there, heading away for a stunning holiday and then it hits us. What are we even going to pack? Trying to cram and push everything into our suitcases can become a frantic mission, with things like your hairdryer being ditched and left unwillingly behind.
The answer? A compact, travel hairdryer is the solution to all of your packing blues. They are lightweight and compact and fit easily into any suitcase or travel bag leaving you more room for luggage. Finding the right portable hairdryer can be a challenge as some hair types need extra power that isn't always available from travel hair dryers.
We have reviewed the best lightweight and compact travel hair dryers from 2018 to help you find the right one for your hair type. We have judged them on weight, wattage, dual or multi-voltage features and effectiveness.
There's a lot of different things that need to be considered when buying a new hairdryer so we advise you read our buying guide to know what to look out for. Whether you are looking for a salon-style hairdryer or it's your first time buying one, we have put together a review of the best hair dryers on the market at the moment.
We have put these models through their paces and judged them on variable heat settings, damage to hair, noise, and features.
| Product | Image | Best Feature | Price | Buy Now |
| --- | --- | --- | --- | --- |
| Parlux Advance Light | | Very Lightweight | ££ | |
| Nicky Clarke Supershine | | Ionic and Ceramic Technology | £ | |
| Dyson Supersonic | | Heat Sensitive Mode | ££ | |
| Revlon Perfectionist 2-in-1 | | Inbuilt Brush | £ | |
| Vidal Sassoon Infra Radiance Diffuser | | Infrared Technology | £ | |
| GHD Wanderlust Hair Dryer | | Advanced Ionic Technology | ££ | |
| BaByliss 5344U | | Dual Voltage | £ | |
| TRESemme Travel Dryer | | Ceramic Technology | £ | |
| Lloytron H1010SV | | Folding Design | £ | |
| Remington D2400 | | Very Lightweight | £ | |
Our Top Pick
Parlux Advance Light
Parlux is without a doubt, experts in professional haircare since the 1970s, providing quality products that reduce damage to your hair. They keep hair healthy and protect it from harsh styling damage and extensive heat.
The Parlux Advance Light comes in a variety of different colours and has variable heat settings giving you lots of control over styling. It has ionic and ceramic technology leaving your locks healthy, sleek and frizz-free.
The Parlux Advance comes with a long lasting motor with a heatproof body, protecting you and your surfaces from heat damage.
Another great feature of the Parlux Advance Light is it's noise level. This is hands down the quietest hairdryer we have used. The components weight has been reduced meaning it is lightweight and very quiet which is great if you need to dry your hair in the early hours of the morning.
They have followed their older dryer design, and why not, it's already perfect so why change it.
Our Verdict: Good quality hairdryer. Parlux perfected their design with previous models and the Advance Light has followed suit. If it's not broken then why fix it? They have definitely got it right with this hairdryer.
Parlux Advance Light Rating: 10/10
Nicky Clarke Supershine
Next on our list is the Nicky Clarke Supershine Dryer. And it does everything a good hairdryer should. It leaves your hair feeling hydrated, healthy and super soft, reducing frizz and static thanks to its ionic and ceramic technology and slim concentrator for precision styling.
It comes with two different heat settings and 2 different nozzles for comfortable and easy styling.
One downside we found with the Nicky Clarke Supershine was the weight of the body. Now this isn't too much of an issue of you have thin hair, but it becomes a problem if you have very thick hair. A lot of dead arms and hand swapping is needed.
Other than that, this hairdryer does everything it says on the tin, keeping your hair healthy and reducing damage to your precious tresses.
Our Verdict: The Supershine is a very good buy for all hair-types. It is powerful and helps to reduce frizz more than other hair-dryers making it the perfect choice for those with curly or frizzy hair.
Nicky Clarke Super Shine Dryers Rating: 9.5/10
Dyson Supersonic Hairdryer
What can we say about the Dyson Supersonic hairdryer? Not only is it incredible but it looks stunning with it's glossy, minimal design and stylish shape. Dyson has completely altered the design of typical hair-dryers, producing this masterpiece with many features. It helps to keep hair looking healthy and sleek while reducing the risk of frizz. It can dry hair in half the normal time it would take with a normal hairdryer.
The Dyson comes with a heat sensitive mode to ensure your hair isn't fried or damaged when styling. It leaves hair shiny and sleek, you may not even need your hair-straighteners depending on your hair-type.
Our Verdict: The Dyson Supersonic comes with 4 adjustable heat settings, giving you full control and two different nozzles. It's powerful at 1600 watts but with heat shielding technology, the body, and all attachments stay cool to the touch, no matter how long you have been using it.
DYSON Supersonic Rating: 9.6/10
Revlon Perfectionist 2-in-1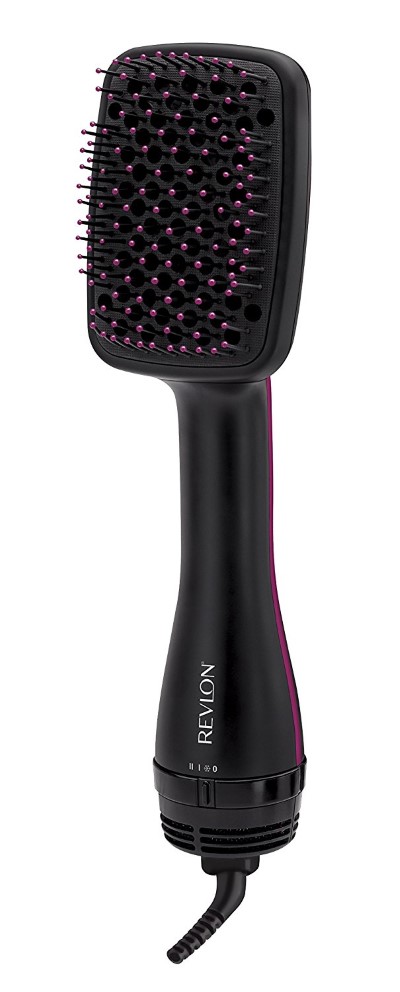 The Revlon Perfectionist 2-in-1 has a unique design, combining hairdryer with a brush. It has ionic conditioning technology to eliminate static from your hair and give you a smooth and sleek finish.
The Perfectionist 2-in-1 has two different heat settings including a cold setting, giving you more control over your hair styling and reduce damage. The massaging ball tips on the bristles are perfect for stimulating hair growth and detangle hair simultaneously.
Our Verdict: The best part of this dryer is how easy it is to reach and dry the back of your hair. It's good to dry, shape and style all in one.
Revlon RVHA6475UK Perfectionist 2-in-1 Dryers Rating: 9.5/10
Vidal Sassoon Infra Radiance Diffuser Dryer
The Vidal Sassoon Infra Radiance Diffuser is the perfect choice for those with curly hair. It reduces the risk of the dreaded frizz because it uses infrared technology. It has two different heat levels making it versatile. It even has a cool heat setting to reduce heat damage from your dryer.
However, this is the heaviest of the hair dryers we have reviewed so it can be a little awkward to use with one hand, especially if you have thick or longer hair that takes a while to dry.
But it is powerful and comes with a concentrator and diffuser nozzle which is great for curly hair as it adds volume and reduces frizz.
This hairdryer also had tourmaline ceramic technology, again reducing frizz with conditioning ions, keeping your hair smooth, sleek and soft.
Our Verdict: Overall this is a good quality hairdryer that is gentle on hair and reduces damage. It also works well to reduce frizz and helps to maintain curl definition.
Whether you want to achieve a straight, sleek look or maintain natural frizz-free curls, the hairdryer you use is essential to getting the look you want. The Dyson supersonic is definitely a design that is out of this world and the results are even more than we imagined them to be. However, the huge price tag doesn't make this the first option for most. The Parlux Advance Light is definitely our top pick when taking everything into consideration. With flawless quality and beautiful results, the Parlux Advance is affordable and great value for money.
Vidal Sassoon Infra Radiance Diffuser Rating: 9/10
GHD Air Hair Dryer
Maintain your stunning locks wherever you are in the world with this travel hair dryer. Regardless of it being small and ideal to pack into your bag it definitely does not compromise on quality, as this GHD dryer ensures softer and shinier results. Despite it being everything you need for a travel dryer you can also use this as your everyday hair essential.
The desirable product from GHD is a limited edition and as well as looking good on the eye, they've also packed some high-end technology into this creation. It acquires ionic technology and a cool shot button plus many other installed features that will help you dry your hair quicker and easier. As you can imagine specialising as a travel dryer it's completely lightweight and easy to utilise. It has a streamline like structure with a thin nozzle and the option of a pink accessory to clip on. Don't worry about awkwardly trying to situate the wire so you can comfortably dry away- the attached cable is flexible and stretches quite far.
The price is what we'd expect from the beauty accessory leaders and you get a lot of bang for you buck with this all-round complete hair dryer that's not just ideal to take away with you but also fits the role of your number one dryer.
Our Verdict: The price is what we'd expect from the beauty accessory leaders and you get a lot of bang for you buck with this all-round complete hair dryer that's not just ideal to take away with you but also fits the role of your number one dryer.
GHD Air Hair Dryer Rating: 9/10
BaByliss 5344U Travel 2000 W
The Babyliss 5344U Travel dryer is lightweight, powerful and compact. It is a great hairdryer for your travels and is very effective on all hair types. It has 2 heat settings and 2 different speeds making styling easy. The Babyliss 5344U also comes with a concentrator nozzle for precision.
What makes this travel hairdryer great for travelling is its dual voltage and folding handle which is ideal for travelling and holidays. It can become compact and can fit into any bag easily. That being said, the BaByliss travel version doesn't compromise power for its compact design. It is still powerful, drying your hair fast with no fuss.
The only downside to the BaByliss is that it is a little bigger than some other travel dryers and there is no mesh at the back, but its power is what made us put it at the top of our list.
Our Verdict: Very powerful but it doesn't have a mesh at the back so not very suitable for those with long hair. Still, we think that it is the best travel option out there and definitely worth the money.
BaByliss Travel 2000 W Rating: 9/10
TRESemme Travel Dryer
The TRESemme Travel Blowdryer is a compact option that packs a punch. It is powerful with 2000 watts, drying hair fast and easily. With tourmaline-ceramic technology and a two heat settings this option is ideal for taking on holiday with you. It comes with a paddle brush and so is ideal for traveling.
The TRESemme Travel Blowdryer doesn't have a cool setting which is a bit of a let-down, but as it is only meant for travelling, it probably isn't too much of an issue for most. It has multi-voltage so can be used anywhere. Again this design comes with a folding handle which makes it very compact and easy to store when travelling.
Our Verdict: This is a compact and very powerful dryer that is cheap and definitely worth the money. The folding handle makes it easy to fit into your case which is perfect for the frequent traveller.
TRESemme Travel 2000 Rating: 9/10
Lloytron H1010SV
The Lloytron H1010SV Travel dryer is a compact dryer with a low power consumption. It has dual voltage and is suitable to use in Europe, as long as you have an adapter plug at the ready. The Lloytron has two heat settings for versatility and comes with two-speed settings and a narrow nozzle for precision and styling.
This compact option is lightweight, weighing in at 0.42 kg however the cable length leaves much to be desired at only 1 meter. But as this is a travel hairdryer we expect a few cut back features like cable length or power so it is still really efficient.
Again the handle folds inwards making it small and easy to fit into any bag. This really is a minimal and straight to the point dryer that is great for traveling and does exactly what it says on the tin.
Our Verdict: This is a simplistic and no frills device and is great for traveling. Don't expect huge results, though, it is just a simple design with minimal functions, cheap and cheerful.
Lloytron H1010SV Rating: 9.5/10
Remington D2400 Travel
The Remington D2400 Travel option gives you great hair on the go, wherever you go. It has worldwide voltage so can be used anywhere in the world so you can have gorgeous hair anywhere. It is powerful with 1400 watts, 2 heat settings, and two-speed settings, drying your hair faster and letting you be in full control.
It comes with a concentrator nozzle for precise styling which is pretty handy, especially on the go. This is great for travel as it has a folding handle for compact storage and more space for your luggage. It is pretty lightweight, but it isn't the most lightweight on this list, with the Lloytron H1010SV 1200 watt Travel being the lightest.
It still has a lot of power and has a 1.8-meter cord which is very good for a travel version. This means you can dry your tresses with ease and comfort, wherever you are. It also comes with a convenient hang loop at end of the handle to store it away.
Our Verdict: Does what it says on the tin. Simple, cheap and cheerful little travel hairdryer. It can be a bit off  balance in use because the handle doesn't click into place and become secured in use. Overall this is a good little cheap and budget travel option that gets the job done.
Finding the right travel hair dryer can become difficult especially as quality and power can sometimes be overshadowed by lightweight and compact designs, producing small but less powerful dryers for travel. So how can we get one that is compact, lightweight yet powerful?
If you have very thick or longer hair then you need a powerful travel model like the GHD copper luxe travel hairdryer, with its undeniable power. However, if you have finer hair then it may be worth opting for the Lloytron H1010SV 1200 watt Travel model or the still powerful but cheaper TRESemme Travel Dryer.
Remington D2400 Rating: 9.5/10
Pet Hair Dryers
In order to keep your pet smelling and looking their best, you need to spend time on their hygiene and give them frequent baths. If you have accomplished the washing phase of the mission you then need to dry your wriggling ball of fur.
If the above scenario sounds like you, then maybe it's time to consider buying pet dryers so your pet can get back to playing as quickly as possible. Whether you have a puppy, cat, rabbit or kitten, the pet blowdryer will dry your pet in a jiffy and take the effort out of bath days.
You need to be aware that normal blowdryers can be unsuitable for pets because a pet's fur is not the same as human hair. Pet dryers tend to blast the water off fur rather than heating the moisture off. They can be pretty noisy and this can be a scary experience for your furry friend.
There is an abundance of fancy, high-tech dryers for your pet but really you just need to know what's going to be effective for your pet's fur. Here is a no-nonsense guide to the best blowdryer for your pets, keeping them comfortable throughout their bath day.
| Product | Image | Best Feature | Price | Buy Now |
| --- | --- | --- | --- | --- |
| Pedigroom Dog Grooming Pet Fur-Dryer | | Generates negative ions | £££ | |
| Wahl Pet Hairdryer & Stand | | Multi-position stand | £ | |
| Gravitis 2800W Stepless Speed Grooming Blaster Blower | | Adjustable airflow and temperature control | ££ | |
| Atom Professional Dog Dryer | | Adjustable heat and speed settings | £££ | |
| Dog Pet Grooming Heater Blaster | | 3 different shaped nozzles included | ££ | |
Best Stand Dryers
Pedigroom Dog Grooming Pet Fur-Dryer
The Pedigroom dog grooming dryer with stand is a professional style doggie dryer. It uses negative ions to neutralise positive ions within your pet's hair, making it smoother and shinier which prevents static. This is our top pick because it is a professional style dryer for all pets. It comes with a stand making it easy to dry your pet from all angles.
With variable heat and wind settings, it is perfect for all kinds of pets. It is low noise and comes with a height adjustable stand so it's great for all pets of any size. It includes the most advanced brushless motor and has 2400 watt of power.
Our Verdict: The best pet-dryer with a stand for all pets because it's low noise and has lots of variable settings.
Pedigroom Dog Grooming Pet Fur-Dryer Rating: 9/10
Wahl Pet Hairdryer & Stand
The Wahl pet hairdryer with stand is a basic pet blowdryer that is cheap and cheerful. It does exactly what it says on the tin and allows you to dry your pet, hands-free to detangle your pet's fur as you dry. It is quite powerful with 1800 watt motor and quick drying technology which can be used as a handheld or as a stand blowdryer.
It comes with three heat and speed settings as well as a cool shot button to dry with cool air. The controls are placed neatly down the side of it so all controls can be easily reached in the stand and as a handheld. This model comes with a concentrator nozzle, removable air filter, and rubber feet.
Dryer is separate to the stand but is very easy to assemble
Our Verdict: This is a great multi-purpose option for all types of pets. It's simple and does exactly what it says on the tin.
Wahl Pet Hairdryer and Stand Rating: 9.2/10
Best Blaster For Pets
Gravitis 2800W Stepless Speed Grooming Blaster Blower
This pet grooming blower comes complete with a 2.5m hose and 4 different attachments so that it can be used for your dog or cat no matter what their breed. The noise eliminating covers and noise assimilation sponge ensure that your pet will not be startled by loud noises when the machine is in use. With adjustable airflow speed and temperature control ranging from 30 to 55 degrees Celsius, you can be sure that you can find the right settings to get your pets looking their best for any occasion.
This dryer is both lightweight (4.6kg) and small enough to be portable, so you can take it with you wherever you go!
Our Verdict: A powerful yet lightweight dryer that can dry your pets in minutes, perfect for cats because of the low noise level.
Gravitis 2800W Stepless Speed Grooming Blaster Blower Rating: 8/10
Atom Professional Dog Dryer
The Atom Professional Dog Dryer is a salon style dryer for pets but can be used in your own home. It has a powerful motor and has a 1000 watt single fan motor and a 1000 watt integrated heating element to dry your pets quickly and easily. It has adjustable heat settings to suit your own personal needs and helps you to create different finishes and styles. It is of professional quality and comes with variable speed settings, again allowing you to create the best finish.
The Atom comes with a long extendable hose (2 meters) so you can dry with ease.
The Verdict:
Our Verdict: This is a good, heavy duty pet-dryer that is suitable to use at home and for all kinds of pets. It is good value for money and definitely worth buying.
Atom Professional Dog Dryer Rating: 9.8/10
Dog Pet Grooming Heater Blaster
Dog Pet Grooming Heater Blaster is a powerful dryer with 2800 watts. It drys pets fur quick and effectively, especially when it is used with dogs. It comes with variable heat and speed settings giving you control. The Dog Pet Grooming Heater Blaster comes with 3 different shaped nozzles which are great for drying a variety of different types of pets. It is quite loud so is probably not good for nervous pets when you are drying.
Our Verdict: This is a good pet-dryer for larger animals. It's quite noisy so isn't suitable for skittish or small pets like puppies. Good value for money.
Dog Pet Grooming Heater Blaster Rating: 9/10
Finding the best dryer for your pet can be a difficult task. Unlike normal dryers, pet dryers and heat blasters need to be high pressure rather than heated air as you need to 'blast' the water off their fur. Make sure you look for variable speed settings and low noise to ensure that your pet-dryer is suitable and perfect for your cuddly companion.
What pet do you have at home? Which one of these pet dryers do you think they would be best suited to?
Hair-Dryers Buying Guide
A good quality blowdryer is essential for styling unruly hair and keeping your tresses healthy. Scrimping on this essential hair care product can leave you as a loud, hot mess. Not to mention a cheap hair dryer will be less effective and tough on your hair leading to heat damage.
Finding the right hair dryer for you all depends on your specific hair type. For curly or frizzy hair you need a dryer with low heat settings and for straight you need a hot hair dryer. Below we have put together a buying guide to help you make the right choice.
Noise
A noisy hair dryer can only be one thing, irritating to you and those around you. If you live with others and tend to dry your hair early in the morning or late at night, then it would be a good idea to opt for a quieter hair dryer like the Dyson Supersonic.
Weight
No one wants a dead arm when they are trying to dry and style their hair. It just makes the whole process even longer and very uncomfortable. Try to keep your eyes peeled for a hair dryer that is lightweight and so you can use it without issue. This is especially important for those with long or really thick hair because otherwise drying your hair can become a painful ordeal.
Cable length
Cable length is another important factor when buying a hair dryer. Of course it depends on your own personal needs, is your dressing table near a plug socket or do you travel a lot? Hair dryers with shorter cables are less versatile and so it might fall short when drying your hair. A hair dryer with a 2 meter cable should be enough but there are many models that have cables that are 3 meters or longer.
Power (watts)
The higher the watts the more the heat and power that is produced from your hair dryer. This will make the hair dry faster but on the other hand it will do more damage to your hair. For most a wattage of between 1,500W and 1,800W will be totally fine and some professional hair dryers go up to 3000W. Just remember to check and to look after your hair when you use things like hair dryers – like use heat protector spray.
Styling tools and nozzles
Many hair dryers come with different attachments and nozzles so it is always good to decide what kind of things you want specifically for you and your hair type and style so you can get the right attachments and nozzles for you. Like if you have curly hair then it is a good idea to get a dryer with a diffuser.
The best hair dryer for your specific hair type:
For straight – for those with straight hair or people who want to style it straight look for a hair dryer that is powerful and produces a lot of heat. Blow dry from the crown of your head downwards to get that sleek straight look.
For curly – curly hair is notoriously difficult to style and so is best left to air dry naturally to keep its shape. To speed up the process dry hair on a cool setting and use a diffuser for that beach hair look.
For fine/ thin – use a concentrator to dry hair and try drying it upside down to add volume to give the effect of thick hair.
For dry/ frizzy – Again like with curly hair, try to avoid lots of heat and always blow dry your hair downwards to smooth strands and make hair sleek. A concentrator nozzle is good for this.
Features
Ionic
You may have come across this term a lot when looking into buying a new hair dryer. Ionic technology conditions hair using negatively charged ions, protecting against frizz, heat damage and static. Most professional hair dryers come with this feature so it is always good to check if this is something you are looking for.
What is ionic technology good for?
Its especially good for dry, frizzy and damaged hair because it protects it from further heat damage and conditions the strands. It is also good for coarse and thick hair that tends to be naturally dry.
Ceramic
As with ionic technology, you have probably seen the term ceramic technology floating around the specifications of many hair dryers these days. All this means is it helps to balance and distribute heat effectively from your hair dryer so it protects your hair from heat damage.
What is ceramic technology good for?
Ceramic technology is very good for frizzy, dry and damaged hair and this includes those with curly hair. Though it is suited to damaged and dryer hair types, ceramic technology is equally effective for all hair types with good results.
Concentrator nozzles
This is usually a thin attachment that tends to come as standard with most hair dryers. It can be good to use for volume when used at the roots of your hair. But be aware that it can get pretty hot so move it often to avoid heat damage.
Cool shot
Cool shot is a feature on the hair dryer itself whereby you can reduce the air temperature to reduce damage and set your hair after styling. Cool air sets hair better so this is a good feature to use.
Removable filter
The filter is at the back of the hair dryer and prevents hair from getting sucked into the dryer and catches dust. It is a mesh attachment and should be cleaned regularly so airflow is not reduced which can lead to overheating and damage to hair.
Adjustable temperature and speed
To avoid heat damage, you may want to be able to change the fan speed (especially for fine or dry hair). It's important to be able to alter the temperature when drying your hair, especially if you have dry or frizzy hair as cooler settings are more gentle on your hair and reduce heat damage when styling.
Dual voltage
Good for those who travel a lot. Many travel hair dryers actually have dual or multi voltage in them already so you don't have to worry. If you do travel a lot then it would be good to ensure you have this feature otherwise you might not be able to use your hairdryer because it is at the wrong voltage in that country.
Finding the right hair dryer can be a satisfying feeling. Knowing that you have a quality product means your hair will be healthy and the settings and features are useful for your everyday styling needs, cutting down time spend taming wild tresses.
FAQS
How do I look after the cord of my hair dryer?
Never wind or wrap the power cable of your hair dryer around the body. This can destroy the wiring and cause electrical faults very quickly. To store correctly fold in the same way as when you took it out of the box.
How do I clean my hair dryer?
Make sure your hair dryer is cool and unplugged and wipe down the body with a damp cloth to remove products and let it dry fully. Remove the filter of your hair dryer and get rid of the dust and hair build up and rinse under warm water. Again allow this to dry fully then reattach to the body of your hair dryer.
Should you dry frizzy or curly hair with a hair dryer?
Yes you can, but like mentioned above curly and frizzy hair is better air dried naturally. That being said, a hair dryer can speed up the process as long as you use it on a cooler setting to reduce drying hair and heat damage.
If you use this hair dryer on low heat setting, would it consume less electricity?
Yes because the fan would be spinning slower and the heat is low so less energy will be produced meaning less electricity will be used.
Can hair dryers cause severe heat damage to hair?
Yes hair dryers can produce significant heat damage to hair if used on the highest settings and is used every day. To avoid heat damage to your hair invest in a good quality product and always use a heat protector spray or serum on hair. Avoid using a hair dryer on the highest setting every day to protect hair and keep it healthy.