If you're looking for a big, bold statement fridge with loads of space and features, then look no further than classic American-style fridge freezers. As long as you have the space for them, they make a great addition to any kitchen and are perfect for big busy families and households with sharers.
These fridge freezers have become increasingly popular in the UK over the last decade as they offer substantially more space and come with useful additions such as ice makers and chilled water dispensers. The downside of buying one of these fridge freezers is that they cost more to run due to their size, and they require a big kitchen to accommodate them, so make sure you have the budget and room to handle a large fridge freezer before you buy one. Here are our top picks for American-style fridge freezers on the market right now, as well as a useful buying guide to help you decide if they are the right kind of appliance for you.
Top American Fridge Freezers – Our Pick
Product Comparison
Product
Image
Brand
Capacity
Dimensions (cm)
Efficiency
Energy consumption (annual)
Features
Technology
Price
Buy Now
Fisher & Paykel Goliath 3-Door Fridge Freezer
Fisher & Paykel
Fridge: 413 litres
Freezer: 128 litres
179 x 90 x 70
A+
440 kWh
Water dispenser and ice maker
EZKleen coating (fewer smudges)
Height-adjustable glass shelves
Fast freeze
Auto defrost
Humidity-control
£1,899.00


Samsung RSG5UUMH American-Style Fridge Freezer
Samsung
Fridge: 411 litres
Freezer: 204 litres
178 x 91 x 74
A+
490 kWh
Water dispenser and ice maker
Egg and bottle racks
Spill-proof shelves
Fast freeze
Auto defrost
Twin cooling
£1,399.00


BEKO Select GNE60520X American-Style Fridge Freezer
BEKO
Fridge: 387 litres
Freezer: 152 litres
182.5 x 84 x 74.5
A+
460 kWh
Egg rack
Chiller compartment
Adjustable Shelves

Intuitive cooling
Active Fresh
LED lighting and display
Auto Defrost
Air Flow cooling
Anti-bacterial door seals
£999.99


Samsung Family Hub American Style Fridge Freezer
Samsung
Fridge: 351 litres
Freezer: 199 litres
182.5 x 90.8 x 73.3
A+
460 kWh
Egg rack
Ice dispenser
Water dispenser
Adjustable shelves
Colour LCD
Temperature
Holiday mode
Browser
Calendar
Music
£3,499.00


KENWOOD KSBSDX15 American-Style Fridge Freezer
Kenwood
Fridge: 364 litres
Freezer: 192 litres
176.6 x 91.2 x 72.6 cm
A+
433 kWh
Holiday mode
Frost free
Water dispenser (no plumbing required)

LED
Alarm
Super cool
Super freeze
£529.99
Best American Style Fridge Freezers
The RF540ADUSX4 Goliath from Fisher & Paykel three-door fridge-freezer is a shining, cavernous beast. It has huge double doors and a bottom pull-out freezer with fully extendable drawers. The fridge exterior is stainless steel, coated with a special EZKleen film to avoid unsightly fingerprints. This would be a great choice for a large family or anyone who prepares food in bulk and would work perfectly in a spacious kitchen.
Built for elegance and convenience, it comes with the ever-popular built-in water and ice dispenser, and its glass shelves are height-adjustable. The downsides to a model of this size and calibre are that they use a lot of energy and are among the more expensive options available.
Pros and Cons
We Liked:
The auto-defrost function
The electronic interface
The plentiful space
We Didn't Like:
The high energy consumption
No anti-bacterial protection
Fisher & Paykel RF540ADUSX4 Goliath
90 %
Our Verdict: A powerful, spacious, 'all singing, all dancing' product with ice maker. This top-end appliance is a great investment for any modern kitchen.
Fisher & Paykel RF540ADUSX4 Goliath Rating: 9/10
Specifications and downloads
Specifications:
Annual energy-416kWh

Bottle Rack-Y

Dispenser-Plumbed

Energy Rating-A+

Freezer Net-128
Fisher & Paykel RF540ADUSX4 Goliath Fridge user manual
This fridge from Samsung offers loads of space, and is slightly deeper than the Fisher & Paykel. The inside has a few nice features, such as dedicated bottle and egg storage, safety glass adjustable shelves and three large veg bins. This would be a great choice for a family who get through a lot of fresh produce.
The Samsung RSG5UUMH fridge looks very sleek and modern with its Manhattan silver finish, and would fit well in a contemporary kitchen. We reckon it's one of the better value products around however, it is the most energy-intensive of the five models we tested, using 490 kWh per year.
Pros and Cons
We Liked:
The spill-proof shelving
The fast-freeze function
The twin thermostat
We Didn't Like:
Ice-maker is occasionally temperamental
Lack of colour options
Our Verdict: A modern product with tonnes of space, this is a superb high end appliance.
Samsung RSG5UUMH Rating: 8.5/10
Specifications and downloads
Specifications:
Fridge: 411 litres / Freezer: 204 litres
Frost free
Water & ice dispenser (requires plumbing)
Temperature alarm
Fast freeze
Samsung RSG5UUMH user manual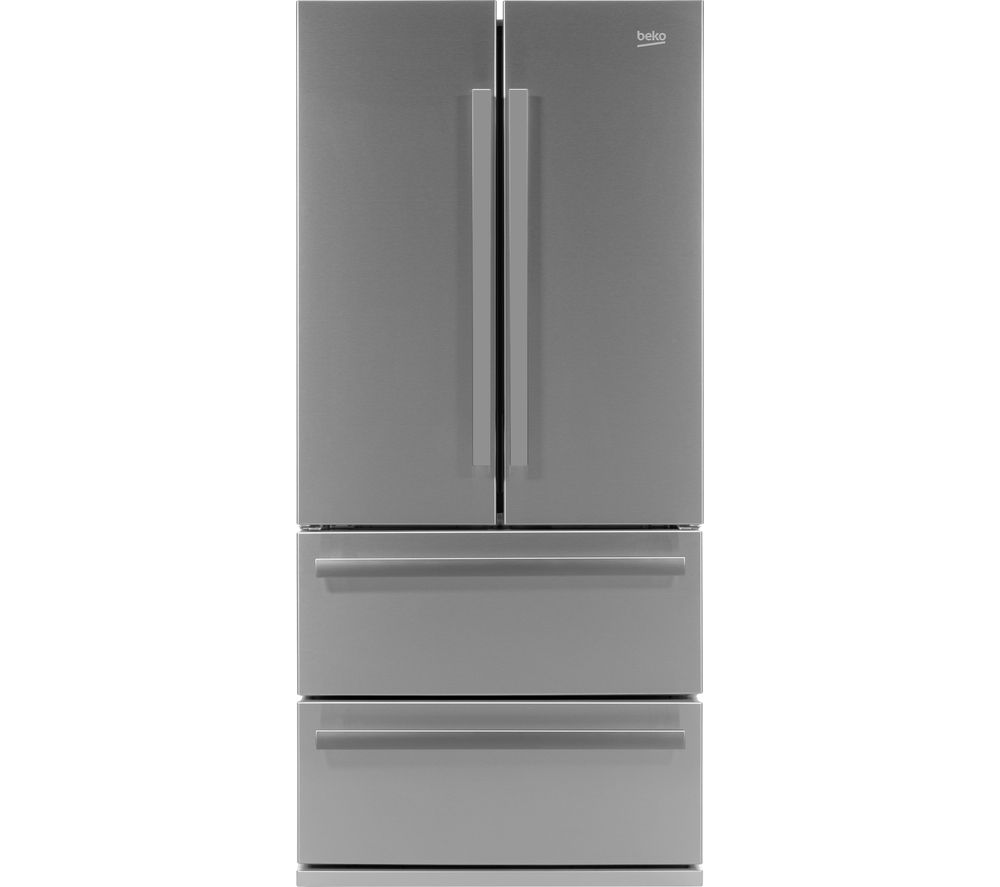 If you like to do your food shopping in bulk and tend to freeze leftovers en masse, then with a huge product like this 600 litre model from Beko, you will have ample storage space for all of your chilled and frozen groceries. A stainless steel design with side-by-side doors and two huge freezer drawers, this would be the perfect option for a large family or a household of sharers.
We think this product offers excellent value for money for what you get. While most are a pain to move around, this Beko model comes with wheels that make it easy to manoeuvre when setting up. Not only is the stainless steel exterior smart and expensive-looking: it also has an anti-fingerprint finish to protect it from grubby hands.

The benefits of this Beko offering include antibacterial door seals, integrated odour filter and blue internal LED lights that actually help to maintain the vitamin content in your fresh fruit and vegetables. With an A+ energy rating, it's also an efficient and environmentally friendly option for the home. A nice feature is the internal LED display, which allows you to manually set your temperatures with ease. While it would be nice to see an integrated ice and chilled water dispenser, what it lacks in fancy add-ons, it makes up for with a spacious interior and useful shelving for eggs and bottles.
Pros and Cons
We Liked:
Very spacious

Easy to move

Alarm goes off if left open
We Didn't Like:
Drawers can be difficult to open

No ice or chilled water dispenser
Our Verdict: The perfect family-sized product: reasonably priced with all the right hygiene and energy efficiency features.
BEKO Select GNE60520X Rating: 9/10
Specifications & Downloads
Specifications:
Product: BEKO Select GNE60520X
Capacity: Fridge: 387 litres / Freezer: 152 litres
Dimensions (cm): 182.5 x 84 x 74.5
Efficiency: A+
BEKO Select GNE60520X user manual
The Samsung Family Hub is a product which will revolutionise the way you engage with your food storage. This model will be the centre of attention in any kitchen.
Internal cameras allow you to see inside, even when you're not at home, for easy food management on the go. You can create a shopping list and use your app whilst shopping to make sure you don't forget any vital meal ingredients. You can even watch TV as you cook or listen to radio through the appliance. Bluetooth and Wi-Fi connectivity allows you to connect your device to smart sound multi-room speakers.
A really unique feature is the CoolSelect Plus Zone, which lets you choose between additional fridge or freezer space – it's always great to have this kind of flexibility in the family home. The ability to label the use-by dates and freshness of all your food products is an extra touch and helps minimise food wastage.
Pros and Cons
We Liked:
App and bluetooth connectivity, especially the shopping list app

 Modern and attractive exterior
 21.5" LCD HD touch screen
TV and radio functions
We Didn't Like:
Water dispenser requires plumbing

Hefty price tag
Our Verdict: Missing your favourite TV or radio programme to cook is a thing of the past as this product boasts all of the entertainment features you need and more. However, the water dispenser does require plumbing which may prove difficult for some customers.
Samsung Family Hub Rating: 9.5/10
Specifications & Downloads
Specifications:
Product: SAMSUNG Family Hub RF56K9540SR Smart
 Capacity: 550 l
 Dimensions: 18.25 x 90.8 x 73.3 cm (H x W x D)
 Efficiency: A+
Features (3 top features): Frost free, water & ice dispenser (requires plumbing), Wi-Fi connectivity
Samsung Family Hub user manual
This stylish and energy efficient offering from Kenwood would be an asset to any family home.
Kenwood has brought a strong contender to the table with the KSBSDX15. This high capacity model comes in a modern stainless-steel finish and would look fantastic in most kitchens.
The KSBSDX15 features a maximum capacity of 615 litres, many compartments and three salad crispers to keep your groceries and refreshments organised. Another great feature is its flexi-fresh box which enables you to separate your fruit and veg, keeping them fresh and protected. The fast freeze and frost-free functions are an added convenience to efficiently preserve the quality of your food. An LED display ensures that all functions are extremely easily to modify.
On top of an A+ energy rating, this model also boasts a holiday mode feature, which means you can save energy when you are not using the appliance or when you go away.
Whilst it may be slightly challenging to fill the water dispenser and it would be useful if the freezer section had one extra shelf, the attractive design and large capacity makes this model a fantastic budget choice.
Pros and Cons
We Liked:
Large capacity
 Modern stainless steel design
 Great compartment options to organise groceries
 Easy to use LED display
We Didn't Like:
Water dispenser difficult to fill
Another drawer would be useful in the freezer
Our Verdict: A stylish and convenient budget buy for any modern family home.
KENWOOD KSBSDX15 Rating: 8/10
Specifications & Downloads
Specifications:
Product: KSBSDX15
 Capacity: 615 litres, Fridge: 364 litres / Freezer: 192 litres
 Dimensions: 176.6 x 91.2 x 72.6 cm (H x W x D)
 Efficiency: A+
 Features (3 top features) holiday mode, frost free, water dispenser (no plumbing required)
AR Rating (out of 10): 8
KENWOOD KSBSDX15 user manual
American-Style Fridge Freezer Buying Guide
Due to the fact that these fridge freezers are so much bigger and bulkier than standard fridge freezer models available in the UK, here are some pointers to consider before investing in one.
Things to Consider
Do you have enough space?
The average American-model fridge freezer is approximately 1.8 metres tall, 0.9 metres wide and 0.8 metres deep. That's a big old appliance to try and fit into a small kitchen, so unless you're confident you have plenty of space, then you might be more comfortable with a standard-sized fridge. Before you go ahead and order, make sure you've carefully measured the available space, allowing a little room above and behind the appliance for air to circulate.
Another thing to consider is how you will physically manoeuvre it into your home – if you live in a block of flats for example, will you be able to get it into the lift or up the stairs?
Do you have a plumbing point?
Most fridge freezers of this style need to be plumbed in order for their chilled water dispensers and ice-makers to work. Make sure you have a plumbing point available, perhaps close to a washing machine or dishwasher.
Are you prepared for the costs?
Because these appliances are larger, they tend to be more expensive to purchase than standard models. Average prices range from between around £600 for a cheaper model and exceeding £2,000 for a more expensive model. Essentially you are paying for the increased size, as well as features such as digital displays and dispensers.
They are also more expensive to run, as more energy is required to keep everything chilled in such a big appliance – so you should expect higher electricity bills as a result of choosing an American-model fridge freezer over a standard one.
Useful features to look out for
Since you pay more for a fancy fridge freezer like this, try to get one that has lots of features that will be useful for you, to ensure you get your money's worth. Look out for the following:
Frost-free freezer
Fast freeze function
Bottle rack
Adjustable shelving
Water dispenser
Ice maker
Anti-smudge coating
Are you thinking of taking the plunge and investing in a big, beautiful American-style fridge-freezer? Let us know why you took this decision in the comments, which models you like the look of and why.