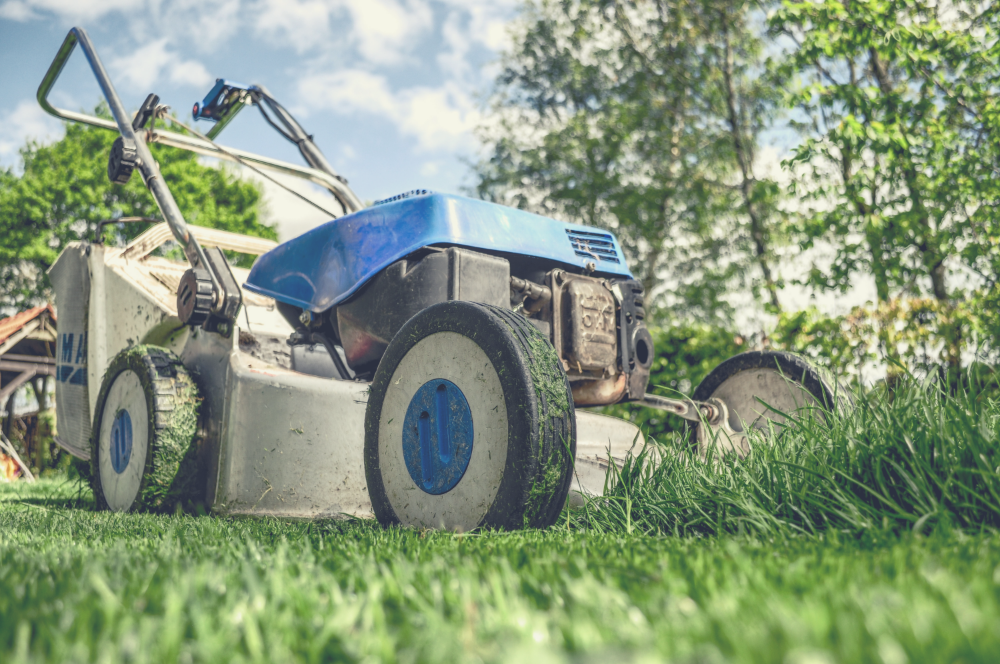 It's coming to that time where everything that has made the garden look so appealing and lovely over Summer is now having to be stored away until Spring arrives.
Unfortunately, just popping everything in the shed/garage/greenhouse as it is isn't enough. You will be bringing everything out, and it'll still be covered in dried dirt and mud, it might have rusted, and it just won't be very pleasant to use again (if it is usable at all). It is at times like these where you just wish you'd done it earlier.
Garden Cleaning Checklist
Here is a rundown of things you can do to make sure everything is ready and in pristine condition for you when you can next get out and spend time in the garden.
Clean Your Lawnmower
After you do that final trim of the year and cut the grass right down, the lawnmower will probably be put away safely. But the last thing you want is to bring it out and find that it isn't working at its best because you didn't clean it first. If damp grass dries on the blade, it could mean it isn't as effective.
Remove all grass with a small brush or the dedicated cleaning tools that came with the machine. Wipe any ground-on dirt away with a damp cloth, but don't get too much water on the appliance. Also, check for any signs of wear and rust that need addressing.
TIP: Winter is a great time to look at deals for all those gardening and Summer essentials, even if glorious weather is the last thing on your mind.
Maybe you feel that your lawnmower has seen its last Summer, or you simply fancy one with a few more specifications for next year. If you do want a new one, take a look at our reviews of the best lawnmowers available.
Take Care of Your Garden Tools
It is all too easy to throw the mucky spade back in its container once you're done with it, but if you actually care for all your tools, they will last longer and be more effective at their job. Plus, keeping on top of cleaning makes it a lot easier when the time comes.
Things such as secateurs and other metallic tools need to be cleaned with a wire brush, wiped, thoroughly dried and possibly even oiled or coated before you put them away to ensure they don't rust. Store them somewhere dry, too.
Wash your Paths and Decking down
Don't just leave it up to the heavy rain to clean your outdoor areas. This will only make things even dirtier by moving it all around and letting it get really ground in – not pleasant for when the sun finally arrives, and you fancy a spontaneous barbecue.
Make use of the yard brush before you put it away, and get rid of any falling leaves as they arrive. Specially dedicated patio cleaner is available, which can also act as protection against things like algae and moss.
TIP: Dirt and grime can be tackled a lot easier with a pressure washer, and it also takes a lot less time to get the job done. It can get those tricky bits in between the flagstones cleaned too. Much better than scrubbing with soapy hot water and bleach (and much more fun).
Clean out Guttering
One guarantee in the UK is that it will rain. Probably with quite some force too. The last thing you want is for your guttering not to be able to handle the extra pressure and water. If they are full of leaves and moss or are damaged, they will need to be cleaned out and replaced/fixed.
Then, invest in some gutter brushes and fit them using the instructions. These allow water to flow while keeping leaves and other debris away from the surface of the pipe.
Also ensure water can't drip anywhere near your house or windows, which could cause damp problems.
Make Sure your Furniture is Pristine
You probably regularly give your outdoor table and chairs a regular wipe to get rid of crumbs, bugs and general grime, but now is the time to give them a thorough wash.
Get right into all of the corners and any difficult to reach bits, such as underneath where you don't see every day. If you have any umbrellas or cushions, wash them now – don't just leave it until you're freshening them up before the next time you use them.
Think about your outdoor appliances too. Barbecues, hot tubs and pizza ovens can get very dirty when not in use if they haven't been cleaned first.