Whether you are lucky enough to have a classic farmhouse kitchen in your home or just want to recreate the feel and stray away from modernity, the country kitchen look is getting popular again.
However, decorating your chosen room can be difficult. You aren't able to throw soft furnishings about or have rustic coffee tables or lamps as focal points, so have to stick to farmhouse kitchen furniture and retro appliances.
Creating the Perfect Farmhouse Kitchen
These tips will help you make the most of your home, adding charming rustic character and helping to create a traditional feel:
Range Cooker
You don't have to be the best or most regular of cooks to take advantage of the style a range cooker brings to any kitchen. They are the central point of any country feel, and no farmhouse kitchen is complete without one.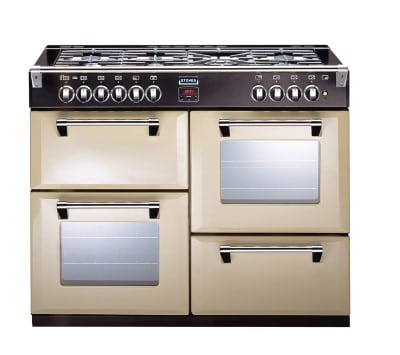 The good news is that you aren't just limited to Agas and top-of-the-range cookers costing over £1000. There are great budget models available which emulate the style and come without all of the fancy extras such as baking compartments and wok burners. Perfect if you just want a bog-standard oven that does the job but looks the part.
Their size also varies widely, so don't think that just because you only have the space for a regular cooker, you can't get a range. They generally come in 600mm, 900mm and 1000mm widths.
The style also varies – you can go for the classic look, ultra modern or somewhere in the middle. For the ultimate country look though, the only way forward is a cream or pastel colour, which will do a great job of standing out yet staying muted so you can work other finishing touches around it.
Take a look at our reviews of the best range cookers available to see for yourself, and find your new favourite kitchen appliance.
Display Cabinet
You're probably going to have a lot of trinkets, dining sets and cookbooks which are for 'display purposes only', to add that finishing touch. So you're going to need somewhere to store them all and show them off.
A display cabinet which is made of real wood and has a slightly worn effect, or one which looks like it has been revamped, is going to fit in much better than a brand new unit from Ikea.
This Florence Display Cabinet by Florence Furniture is perfect if you're after the reconditioned look and something to brighten up your kitchen, and the Wye Pine Welsh Dresser has a classic look which will make it look like it's been there for years.
Clock
If you have a lot of wall space to fill, a clock is an excellent way of making the most of the room while also being practical and clutter-free. A Large Numeral Clock will look great in any space, and there are also plenty of large rustic clocks with a 21st Century twist if you want the perfect balance of modern and classic.
Stand Mixer

Having a farmhouse kitchen with lots of space means more baking and cooking from scratch for you, but to take the effort out of the preparation, a stand mixer is essential.
A retro model, such as from the well-known Smeg brand, will look great on your countertops and adds a splash of colour to your space, which is ideal if you have gone for a muted colour pallet. For the ultimate baker, the only option is a Kitchenaid 175 Artisan. It is very adaptable so that you can make your cakes, bread and sauces without any arm power.
Whether you want to keep it plain and classic or add slashes of brightness, there is something for everyone.
Check out our reviews of the best stand mixers on the market – and remember that the colour could be just as important as the functions.
Industrial Lighting
You may well be someone who hates clutter and unnecessary decoration in your home. It can mean more cleaning, after all. So a great way to add a bit of a vintage classic country kitchen feel to your cooking space is to jazz up your lighting.
Stray away from the LED spotlights and instead towards pendant or hanging lights. This Spider Light is incredibly fashionable yet the perfect industrial edge.
After the full industrial treatment? A wire pendant light will go back to basics, and the open designs give out the maximum amount of light available which is great for larger spaces with little natural light.
If you want the vintage look which would be seen in stately homes, a pendant light in the style of a chandelier could do the trick. The Vas Birdcage 5 Lamp Pendant Ceiling Light will fill any space if you have a high ceiling, and create plenty of light over your dining space.
Don't Forget…
Little touches can also have a big impact on the style and look of your space, too. Items such as dish drainers, oven gloves and bread bins and kitchen roll holders can also have the farmhouse look, and a classic chalkboard is essential – your dinner time planning won't be complete without it. They're available on a budget from most homeware stores. Check out our Pinterest page for more inspiration.