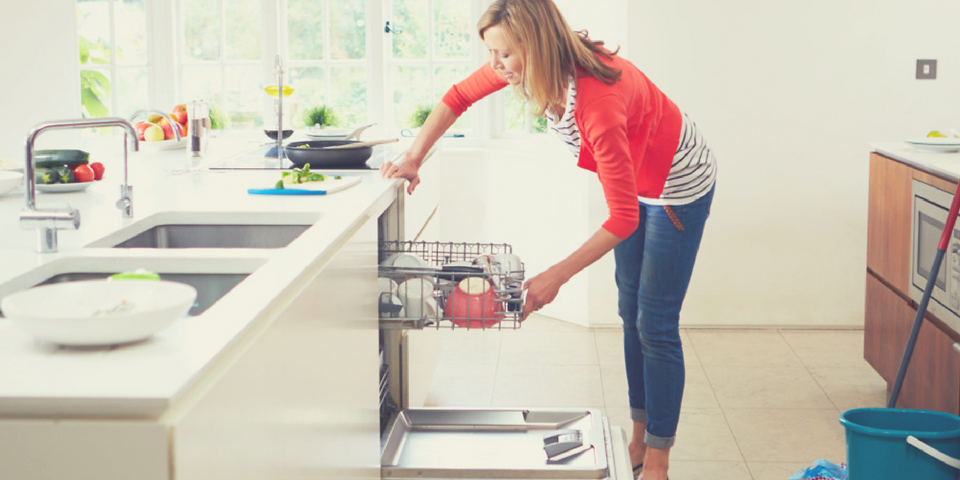 Your dishwasher can do so much more than what you are currently using it for, despite its best-known purpose of washing your dirty dinner plates and cutlery. Some ideas may make you wince, but trust us on this one – as long as you keep your dishwasher clean, it can return the favour well.
These are just some of the everyday items you can thoroughly clean in your dishwasher appliance to get them dirt-free and fresh in no time:
1.Pet bowls and toys
The everyday items that our pets use can get pretty slobbery without us even noticing, which can't be good for hygiene. Pop their plastic chew toys on the top rack, and check that the bowl is dishwasher safe first.
2. Makeup brushes
Removing the everyday build-up on your brushes is necessary but a lot of effort if done by hand, so place them in the cutlery holder once a month to give them a full cleansing. Make sure they fully dry before use and go in on a low setting so the glue holding the bristles together doesn't melt.
3. Keys
Safe to wash as much as you like, put them in individually and without any covers for a deep clean.
4. Car cup holders
If removable, they are completely safe for dishwasher use.
5. Toothbrush holder
These can get grubby and unhygienic very quickly if you look closely. Place ceramic or plastic holders on the top shelf.
6. Shower head
Add these to your dishwasher load every three months to get rid of any hard water build-up and grime that might be stopping its effectiveness.
7. Plastic children's toys
The easiest way to remove all those germs. Though don't add toys with any electrical components, or dolls with synthetic hair.
8. Plastic hairbrushes and combs
Remove all the hair first and pop them in the utensil basket or top shelf and they'll be grease free in no time.
9. Dish sponges
The perfect breeding ground for bacteria and mould as they're always damp. The 'heated dry' setting will remove most of it.
10. Grill rack
Use the highest setting on your dishwasher to get rid of all the stubborn dirt and grease.
11. Contact lens cases
Keep safe in the utensil basket and clean approximately every month.
12. Tools
Pliers, screwdrivers and the other contents of your toolbox are usually greasy, so use the hottest setting and your normal detergent. Gardening tools can be cleaned this way too, but rinse first.
13. Refrigerator shelves
If they fit, secure them well and add them to your regular load.
14. Desk organisers
Just like your car cup holders, these can be placed on the top rack.
15. Condiment shakers
Bacteria can build up in these if they are full of old salt and pepper, which is obviously best not to sprinkle on your food. They can be emptied and added to your everyday cycle.
16. Rubber rain boots
Get rid of any big lumps of mud and dirt or any removeable insoles first, and place upside down on the bottom rack.
17. Silicone oven mitts
Anything silicone is safe to clean in the dishwasher. Can be put with every load.
18. Plastic shower puff
Using a shower puff every day doesn't actually keep it clean. Pop on the top rack during a normal cycle.
19. Kitchen cabinet door knobs
They're used every day, so keep them sanitised by unscrewing them and placing in the utensil holder. Most ceramic and metal fixtures are safe.
20. Children's dummies
Securely place on the top rack.
21. Soap dishes
Somewhere grime builds up easily, cleaning them in the dishwasher is more effective than by hand.
22. Light switch plates
To get them back up to their original white colour.
23. Dish racks
Just like your dish sponge, these are a bacteria hotspot. Place securely to avoid breakages.